The SNP is gaining momentum and has just over 30 seats left to win a fourth term in government, but it is still too early to call whether the party will enter Scottish Parliament with a majority or rely on support from allies such as the Scottish Greens.
Nicola Sturgeon said earlier the prospect "hangs in the balance", admitting it was always going to be a "very, very long shot" for her party to achieve a majority at Holyrood after early results suggested swings to Labour and the Conservatives in key Scottish seats.
Scotland's first minister did however say she was "extremely happy and extremely confident" that her party was on course for a victory after some major successes including gaining East Lothian from Scottish Labour, and Ayr and Edinburgh Central from the Conservatives respectively.
Meanwhile, London's mayoral election, seen as a two-man race between Labour's Sadiq Khan and Conservative Shaun Bailey, is a lot closer than initially predicted. So far, it has been announced that Mr Bailey received more votes in the West Central constituency than Mr Khan, with 53,713 votes to 51,508. Mr Khan's party are blaming a low turnout for the close margins.
In Wales, the Tories gained the Vale of Clwyd for the first time in the seat's history. It was previously held by Labour's Ann Jones since 1999 before she stood down ahead of this election, but was taken today by Conservative Gareth Davies.
Earlier, Boris Johnson's party took Labour's "red wall" stronghold seat of Hartlepool, winning the constituency for the first time since it was created almost 50 years ago.
Tory candidate Jill Mortimer won a stunning majority of almost 7,000 at the crucial by-election contest. Mr Johnson credited "bouncing back" from the Covid crisis, and "getting Brexit done", for the early election successes.
Labour leader Sir Keir Starmer has been urged to "change direction," as he faces a furious backlash from the left. "Not possible to blame Jeremy Corbyn for this result," said Diane Abbott, a close ally of the ex-leader.
1620283455
Hello and welcome to The Independent's live coverage of today's local and devolved elections.
1620284286
Who is standing in my area? How to find list of candidates
There are a lot of different votes going on today, with ballots to be cast for mayoralties, devolved governments, district, borough and unitary councils, county councils and police & crime commissioners.
With all that going on, you would be forgiven for not knowing exactly what is happening in your local area.
Our reporter, Vincent Wood, has put together a guide below to how to find the details on your local candidates: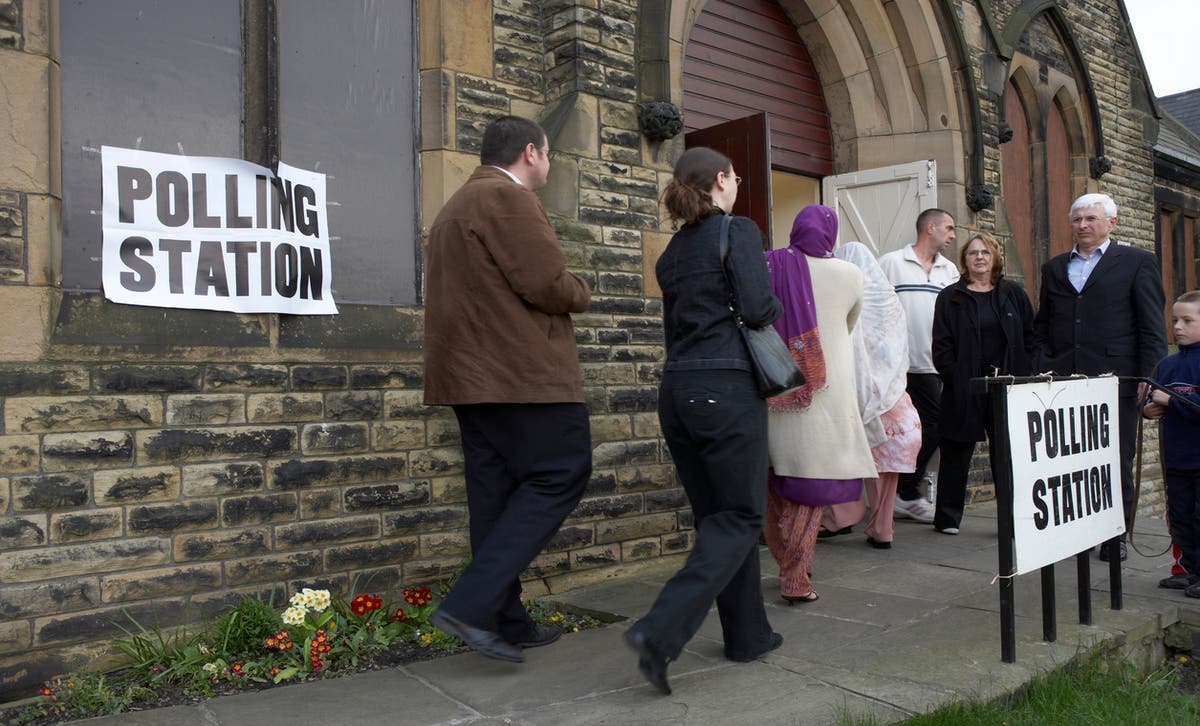 How to know who you're voting for on 6 May ahead of your trip to the polls
1620285081
It is an early start for some this morning as polling stations open across the country:
(REUTERS)
(PA)
1620285572
Boris Johnson casts his vote in London
Prime minister Boris Johnson has cast his vote at Methodist Central Hall in London this morning, appearing arm-in-arm with his fiancee Carrie Symonds.
The former London mayor arrived at the polling station just before 8am and waved at members of the press outside the building before making his way back to his car.
(PA)
1620285850
You can find your polling station for today on your poll card or by entering your postcode on the Electoral Commission's website which can be found below:
1620286684
Footage of Boris Johnson casting his vote earlier this morning can be found below:
Boris Johnson casts his vote alongside fiancee Carrie Symonds
1620287638
Which elections are taking place on 'Super Thursday'?
By now, you will have heard that there are a lot of different elections taking place today...
The reason why there are so many votes is because some, such as the London mayoral elections, were delayed last year due to the first wave of the coronavirus pandemic.
The wide range of polls being held on Thursday means that every adult in England, Wales and Scotland will have the chance to cast at least one vote - a rare occurrence outside of a general election.
You can find a brief guide to everything that is happening today below:
Scotland and Wales will both elect members to their respective parliaments: Holyrood and the Senedd.
Results for the Scottish parliament are expected by Saturday evening, while most results in Wales are expected on Friday.
Residents in the capital will have an opportunity today to choose representatives for the city's Assembly and their regional mayor.
The latter contest will be one of the most closely-watched this week as Sadiq Khan seeks a second term.
As well as London's mayoral election, there will also be regional mayors elected for Cambridgeshire & Peterborough, Greater Manchester, the Liverpool City Region, Tees Valley, West Midlands, West of England and - for the first time - West Yorkshire.
Five local mayors will also be elected in Bristol, Doncaster, Liverpool, North Tyneside and Salford.
Local elections will be taking place across many parts of England for county councils, district councils, unitary authorities, metropolitan boroughs as well as Police and Crime Commissioners in England and Wales.
There will also be a key by-election in the north-west seat of Hartlepool after Labour's Mike Hill stepped down in March.
1620288466
An important reminder from the Electoral Commission that you should not try to vote in person if you feel unwell today.
Instead, you can apply for an emergency proxy up until 5pm today if you cannot go to a polling station due to reasons related to Covid-19.
More details on how to get an emergency proxy can be found below:
1620289262
Our chief political commentator John Rentoul will be answering questions about the election results tomorrow afternoon.
You can find details on how to get involved with his latest Ask Me Anything below:
After the voters go to the polls across Great Britain on Thursday, John Rentoul tackles your questions about what the results mean for Boris Johnson, Keir Starmer and for the future of the United Kingdom in our latest Ask Me Anything
1620289648
Voting has been going for a couple of hours now this morning and we already have our first dog sightings for the day outside polling stations...
(REUTERS)
(PA)
(PA)