Joe Biden has called for an immediate end to Israeli settler attacks on Palestinians in the West Bank, as Israel kept up its strikes on Gaza in preparation for a long promised ground invasion.
Speaking at a joint press conference with the Australian prime minister, Anthony Albanese, the president said US support for Israel's defence was ironclad, but criticised the treatment of Palestinians in the West Bank by some Israelis.
"I continue to be alarmed about extremist settlers attacking Palestinians in the West Bank … pouring gasoline on fire is what it's like.
"They're attacking Palestinians in places that they [the Palestinians] are entitled to be, and … it has to stop now."
Biden accused Hamas of "hiding behind" Palestinian civilians in Gaza, but said Israel must follow the "laws of war".
Israel has been bombarding Gaza since 7 October when Hamas gunmen poured across the border killing 1,400 people, mostly civilians, and kidnapping 222 others.
More than 6,500 Palestinians have been killed in Gaza, according to the Hamas-run health ministry, and there are fears the toll could further soar if Israel pushes ahead with a widely expected ground invasion.
Biden however cast doubt on civilian casualty figures put forward by the Palestinians.
"I have no notion that the Palestinians are telling the truth about how many people are killed. I'm sure innocents have been killed, and it's a price of waging war," he said.
"But I have no confidence in the number that the Palestinians are using."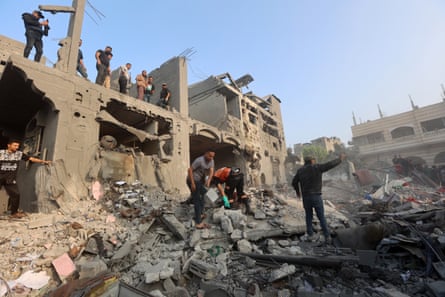 Palestinians look for survivors amid the rubble of a building hit in an Israeli airstrike in Khan Yunis in the southern Gaza Strip.

Photograph: Ahmed Zakot/SOPA Images/Shutterstock
With tens of thousands of troops massed at the Gaza border, prime minister Benjamin Netanyahu said Israel was "raining down hellfire," and that a ground offensive was being prepared.
"I cannot say when, how or how many, nor all the elements that we are taking into account, of which most are not known to the public," he added.
US media have reported that Biden has been pushing Netanyahu to hold off on a ground invasion while Hamas still holds hostages, but on Wednesday Biden denied such reports.
"What I have indicated to him is that if that's possible to get these folks out safely, that's what he should do. It's their decision …. But I did not demand it," Biden said.
On Wednesday the World Health Organization called for Hamas to provide proof of life of the hostages it is holding and release them all on health grounds.
"Many of the hostages, including children, women and the elderly, have pre-existing health conditions requiring urgent and sustained care and treatment. The mental health trauma that the abducted, and the families, are facing is acute and psychosocial support is of great importance," WHO chief Tedros Adhanom Ghebreyesus said in a statement.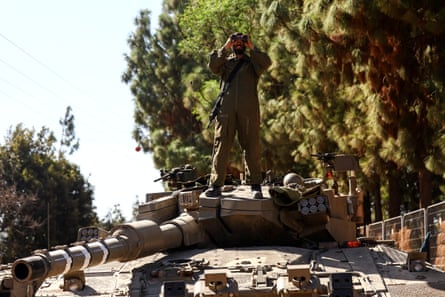 Israeli military vehicles deployed near Israel's border with Lebanon, in northern Israel.

Photograph: Lisi Niesner/Reuters
The main UN agency working in the strip warned this week that its relief efforts in Gaza will be forced to stop unless fuel supplies reach the besieged territory.
Hospitals, bakeries and water pumps may also cease to function, compounding a humanitarian crisis that is worsening by the hour, the UN Relief and Works Agency (UNRAW) said. "We need to find a solution to the fuel – otherwise our aid operation will come to a stop."
But later on Wednesday, world powers at the United Nations failed to secure plans to deliver critical humanitarian aid to Gaza. A US resolution for "humanitarian pauses" to let aid into the blockaded Gaza Strip, without calling for a full ceasefire, was vetoed by Russia and China.
Russia's own proposal that sought "an immediate, durable and fully respected humanitarian ceasefire" was voted down by the US and UK, with nine other countries including France and Japan abstaining.
With the security council deadlocked, the broader UN general assembly is scheduled to debate the war on Thursday and Friday.
In his remarks on Wednesday, Biden stressed that all parties need to think about the way forward in the region once the Gaza crisis is resolved.
"Israelis and Palestinians equally deserve to live side by side in safety, dignity and peace," Biden said.
"When this crisis is over, there has to be a vision of what comes next. And in our view, it has to be a two-state solution. It means a concentrated effort from all the parties – Israelis, Palestinians, regional partners, global leaders – to put us on a path toward peace," Biden said.
Reuters and the Associated Press contributed to this report