The best Golden Globes jokes
The 2021 Golden Globes are almost upon us, as Hollywood prepares to celebrate the top films and TV shows of the past year.
Due to the ongoing coronavirus pandemic, the ceremony will look a little different this year. Though the Globes are typically shown in January, this year the Hollywood Foreign Press Association postponed the ceremony to air tonight (28 February 2021).
However, you can still expect plenty of celebrity sightings, snubs and success as awards are handed out to some of the biggest films and TV shows of the past 12 months.
The ceremony will begin at 8pm ET (5pm PT/1am GMT) and is expected to last for about three hours. Viewers in the US can watch it on NBC; it's also available to stream on the network's website and on its app.
Viewers around the world can follow the pre-show on the Hollywood Foreign Press Association's social media accounts and website.
And of course, we'll bring you live updates throughout the pre-show and ceremony. Follow along with our live-blog:
1614557579
A protester has been photographed outside the Beverly Hilton reprising the slogan: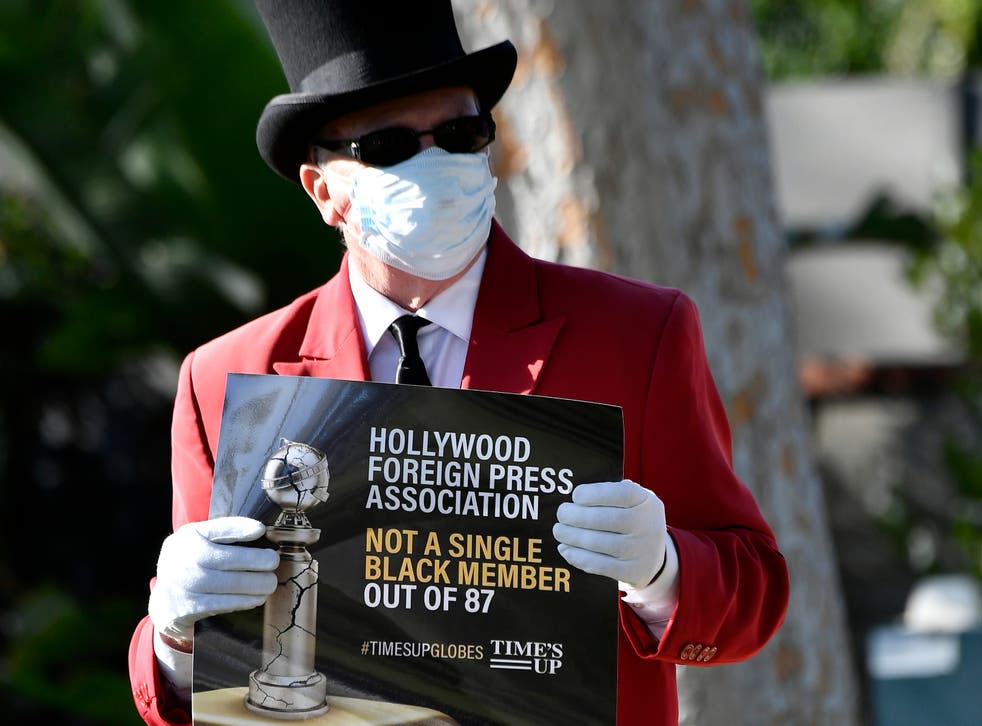 A protester outside the Beverly Hilton on 28 February 2021
(Frazer Harrison/Getty Images)
A protester at the Beverly Hilton on 28 February 2021
(Frazer Harrison/Getty Images)
1614557437
Time's Up recently took the HFPA to task over its lack of diversity in this tweet:
1614556716
Just because there's no red carpet tonight doesn't mean we can't talk fashion at least a little bit! Kiernan Shipka has shared this pretty adorable throwback of herself and January Jones at the Golden Globes 10 years ago... and each of them re-wearing their looks nowadays:
1614556567
Ricky Gervais isn't hosting this year, but that hasn't prevented him from sending a message to tonight's stars:
It was probably aimed at Tom Hanks
1614556373
Also due to the ongoing pandemic, there is no endless stream of glamorous stars on the red carpet this year. Here are a few photos of the Beverly Hilton, the Beverly Hills hotel that has hosted the Golden Globes since 1961:
General view of the Beverly Hilton hotel on 27 February 2021
(Frazer Harrison/Getty Images)
(Frazer Harrison/Getty Images)
(Frazer Harrison/Getty Images)
1614556082
Due to the coronavirus pandemic, the Golden Globes are looking pretty different this year – much like they did last year. Hosts Amy Poehler and Tina Fey will perform their respective duties from two different cities: Poehler will be in Beverly Hills, while Fey will be in New York City, in the Rainbow Room (a legendary venue located at the top of 30 Rockefeller Plaza, also known as... 30 Rock!).
1614555757
Our writer Adam White struggled with the nominations this year – and he wasn't the only one. Many were shocked by the complete lack of recognition for I May Destroy You, when James Corden and Emily in Paris both scored nominations. You can read Adam's take below:
The Best Director line-up showed signs of progress, but this year's Golden Globes nominations were otherwise wacky, writes Adam White
1614555304
The HPFA's pre-show is beginning!
(Twitter/goldenglobes)
1614555085
Amy Poehler: How the comedian killed us with kindness to conquer a world of cynics
The former Saturday Night Live star is poised to host the Golden Globes for the fourth time with her 'comedy wife' Tina Fey. Alexandra Pollard charts her path to greatness
1614554876
Hi everyone! Clémence here, taking over live-blogging duties from Roisin. The pre-show will begin in just three minutes, so grab snacks and beverages and get comfortable!