Related video: Mitt Romney predicts Trump will win if he seeks Republican nomination in 2024
The Conservative Political Action Conference (CPAC) opened today in Orlando, Florida, with ousted president Donald Trump its headline speaker, appearing on Sunday in his first public engagement since leaving the White House for Mar-a-Lago a month ago.
Trump is widely expected to announce a 2024 presidential run during his speech at the gathering, entitled "America Uncancelled".
Former Trump ally Nikki Haley, however, herself seems cancelled after being excluded from the confirmed speakers list. Haley was reportedly snubbed by the president after she spoke out against his role in the US Capitol riot.
This year's CPAC is likely to be unusually fraught given that the Republican Party is currently mired in internal conflict following the riot, with pro-Trump loyalists and establishment moderates locked in a feud that could determine its future.
Despite a letter circulated by GOP senator Rick Scott this week argued that the "Republican civil war is cancelled", Marjorie Taylor Greene stoked the flames of conflict by calling her colleagues like Liz Cheney who turned on Trump "fools" disconnected from the party's base.
1614305795
CPAC includes a "samurai futurologist"
Not to delegitimize the work of my colleagues and me, but you can learn much of what you need to know about American politics from merch tables.
Feast your eyes on the latest crop from CPAC, as captured by The Washington Post's Dave Weigel.
1614298724
The GOP isn't about "cancel culture," except sometimes at "America Uncanceled" CPAC
Hold on tight for a good old-fashioned, extremely circular Washington DC tale.
As we've mentioned, the theme of CPAC this year is "America Uncanceled," whatever exactly that means.
House minority leader Kevin McCarthy and representative Liz Cheney had an awkward moment on Wednesday when Mr McCarthy told a reporter it was appropriate for former Trump to speak at the conference, while Ms Cheney said the exact opposite, that she doesn't believe "he should be playing a role in the future of the party or the country."
Then Mr McCarthy told Fox News that he doesn't believe in cancel culture, that the GOP is a "party of ideas," and said Ms Cheney criticizing the president was "wrong" and itself part of that nasty cancel culture that doesn't leave room for opposing ideas.
"The idea that a Republican would join with a cancel culture I just think is wrong," he said. "It's beyond just having a difference of opinion."
Ah, that clears things up.
1614296018
Florida lawyer wants to fly "Welcome Insurrectionists!" over CPAC
With the impeachment over, it might seem like many have moved on from thinking about the January riots at the Capitol, but Daniel Uhlfelder sure hasn't forgotten.
1614295197
In case you need any more proof of the divided GOP
For some conservatives, CPAC is a major day on the political calendar. For others, it is "cringe." Welcome to the Republican party in 2021, post-Trump 2020, perhaps pre-Trump 2024.
Gab, the no-holds-barred social media network popular with right-wingers, said on Thursday the entire event is "cringe" and "Trump's speech is the single only thing worth watching from it."
In other words, just because the former president might be sharing a lectern with these people, it doesn't mean they're united.
1614293080
Will CPAC acknowledge the 2020 election results were valid? Seems...unclear
The majority of Republican voters believe the election is invalid, according to a recently released survey. The poll was conducted by R Street Institute, and found that 67 per cent of Republican respondents thought the 2020 election was invalid.
Graig Graziosi has the latest on where GOP America stands on the election.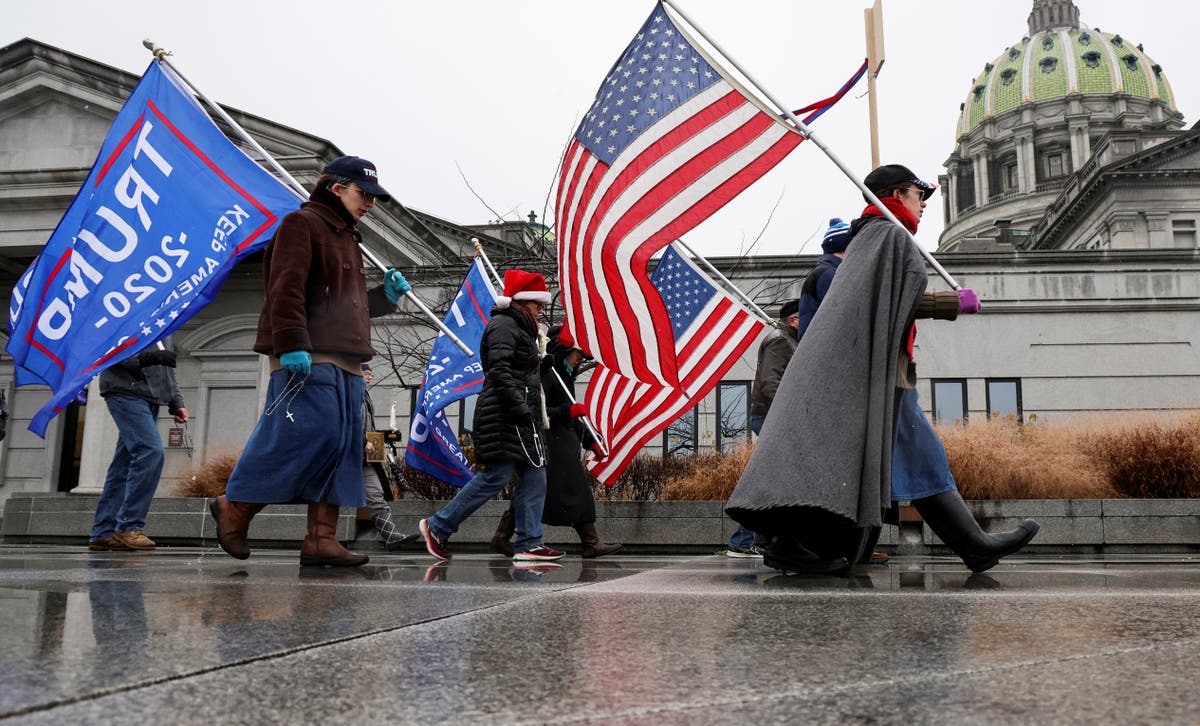 The majority of Republican respondents believe that mail-in voting and ballot drop boxes resulted in more fraud
1614291394
CPAC may memorialize him, but no love for Rush in Congress
The late talk radio host Rush Limbaugh will be inducted into the "Conservative Hall of Fame" and toasted at Saturday's Ronald Reagan Dinner at CPAC, but similar attempts to memorialize him in Congress were shut down on Thursday.
Republican South Carolina Representative Ralph Norman asked for 30 seconds of silence for Rush Limbaugh, the controversial conservative radio host who passed away last week after a bout with lung cancer – but was turned down.
Mr Norman made the request as the House was considering the Equality Act which would ban discrimination on the basis of sexual orientation and gender identity.
Gustaf Kilander has the details.
'The chair cannot entertain the gentleman's request'
1614285738
President Pence, anyone?
It's unlikely that any vice president working under Donald Trump could have found the space in the last four years to define themselves on their own terms. The former president had an unrivalled talent for sucking all the media oxygen out of any room, writes The Independent's Richard Hall.
"But even for someone who touts his discretion as an asset, Mike Pence leaves office with a reputation as something of a grey man, and many questions about his own motivations unanswered. The most pressing of those questions today is whether he has ambition to follow in the footsteps of many vice presidents before him and make a run for the White House."
Mike Pence is returning to his home state of Indiana to decide his future, but residents in his home town of Columbus are torn on his legacy, reports Richard Hall.
1614284526
CPAC 2021: How to watch and schedule of speakers
The 2021 Conservative Political Action Conference (CPAC) is currently underway.
There are three-days worth of speakers who are set to take part in the annual meeting, which this year sees conservative lawmakers, activities and Republican Party officials converge in Orlando, Florida.
It will culminate on Sunday with former President Donald Trump's first public speech since leaving office. Reports suggest he will announce a run for office in 2024.
Gino Spocchia has the best way to watch the full schedule.
Event being held in Orlando, Florida, will see former president deliver first public speech since leaving office
1614277764
Nikki Haley absent from CPAC after falling out with Donald Trump
The former Trump ally is conspicuously absent from this year's list of speakers at CPAC.
Once a potential 2024 GOP presidential contender who has attended previous conferences, Haley does not currently appear on the list of confirmed speakers.
The ambitions of the former US ambassador to the United Nations will take a further blow if Trump follows through on expectations he will announce 2024 run at CPAC on Sunday.
Haley reportedly wrote a Wall Street Journal op-ed in an effort to walk back criticism of the Capitol riot after Trump reported snubbed a meeting request at Mar-a-Lago recently.
Citing a source "familiar" with the situation, Politico's Playbook reported that Trump turned down a request from Haley for a sit-down meeting at Mar-a-Lago since they hadn't spoken since the Capitol riot.
Haley said following the riot that Trump "let us down" and "went down a path he shouldn't have".
After the apparent snub on Wednesday, the WSJ op-ed hit titled: The Media Tries to Divide Republicans. She wrote:
"The media playbook starts with the demand that everyone pick sides about Donald Trump—either love or hate everything about him. The moment anyone on the right offers the slightest criticism of the 45th president, the media goes berserk: Republicans are trying to have it both ways!"
That "both ways" phrase bears remarkable resemblance to Politico's story saying Haley is "trying to have it both ways" as a leader of a post-Trump GOP and friend to the ex-president.
1614276136
Biden administration 'not focused' on Trump's CPAC speech, says White House
Asked if the White House would be watching Donald Trump's CPAC speech expected to focus on the looming migrant crisis, White House press secretary Jen Psaki said the former president wasn't in a position to speak with moral authority on immigration policy.
"We're not looking to former president Trump or any of his advisers as a model for how we're approaching immigration, in fact we're in the circumstance we're in because not only was their approach inhumane, it was ineffective," she says.
"So we're going to forge our own path forward, we'll see what he says, but our focus is certainly not on what Mr Trump is saying at CPAC."