Carrie Lam, Hong Kong's chief executive, has boosted the funds available to tackle the coronavirus outbreak to HK$28bn (US$3.60bn) from HK$25bn pledged previously to ease the impact on the city's battered economy.
Lam last week had said the government would give one-off payments to businesses across the city and the hospital authority.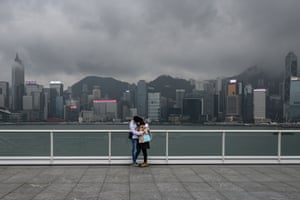 Photograph: Philip Fong/AFP via Getty Images
One person has died from the virus in Hong Kong and 60 people have been infected.
The numbers are very small compared with China but the city is facing an economic crisis with the double hit of the virus and last year's street protests. Visitor numbers have fallen off a cliff.
David Ingles

(@DavidInglesTV)

If you've hated Hong Kong's crowded streets, now is the time to come. Early indications suggest visitor arrivals are DOWN 99%. @ericlamTO https://t.co/lPMLe3T08k pic.twitter.com/9NYWKfzfWB