The new research from Rhodium Group found that in that year, the superpower produced carbon emissions that were more than triple its 1990 levels, and had increased by 25 per cent that decade.
China's share of the 2019 global emissions total of 52 gigatons rose to 27 per cent.
This meant that the country not only stretched past the US in terms of planet-heating pollution – the world's second largest emitter accounted for 11 per cent of global emissions that year – but also "for the first time, surpassed the emissions of all developed countries combined", the report states.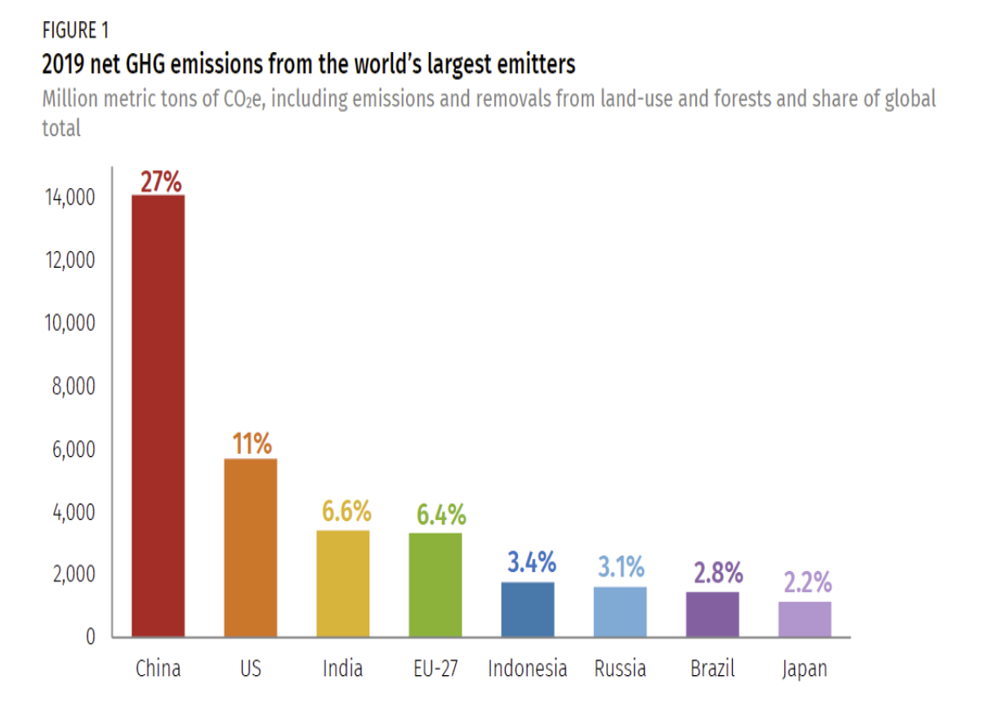 Greenhouse gas emissions in 2019 for the world's largest emitters
(Rhodium Group)
The report refers to the emissions from all members of the intergovernmental economic organisation, the OECD, along with all 27 EU member states.
The findings also noted that for the first time India came in ahead of the EU as the world's third largest emitter, accounting for 6.6 per cent of global emissions over the bloc's 6.4 per cent.
However, Rhodium researchers also note that because of China's large population of 1.4 billion people, its per capita emissions remain lower than than those in the developed world.
In 2019, China's emissions reached 10.1 tons for each person, tripling over the past 20 years. However this is less than per capita levels across OECD nations (at 10.5 tons) and well below Americans at 17.6 tons.
While final data for 2020 is not yet available, the think tank projected that China's per capita emissions would outstrip OECD average as the country's net emissions grew 1.7 per cent last year while pollution dropped in almost every other nation due to the coronavirus pandemic.
More follows ...
Subscribe to Independent Premium to bookmark this article
Want to bookmark your favourite articles and stories to read or reference later? Start your Independent Premium subscription today.