A parody of Claude Monet's impressionist water lilies painting by popular street artist Banksy has been sold at auction for more than £7.5m.
The piece, entitled Show Me the Monet, was auctioned for significantly more than its estimated price of between £3.5m and £5m.
Show Me the Monet recreates one of Monet's most famous paintings, adding an abandoned shopping trolley and traffic cones into a natural scene.
The auction took place in London at Sotheby's on Wednesday (21 October), fetching a total of £7,551,600. Five collectors vied for the artwork, in a bidding war lasting around nine minutes.
Sotheby's European head of contemporary art Alex Branczik said of the painting : "In one of his most important paintings, Banksy has taken Monet's iconic depiction of the Japanese bridge in the Impressionist master's famous garden at Giverny and transformed it into a modern-day fly-tipping spot.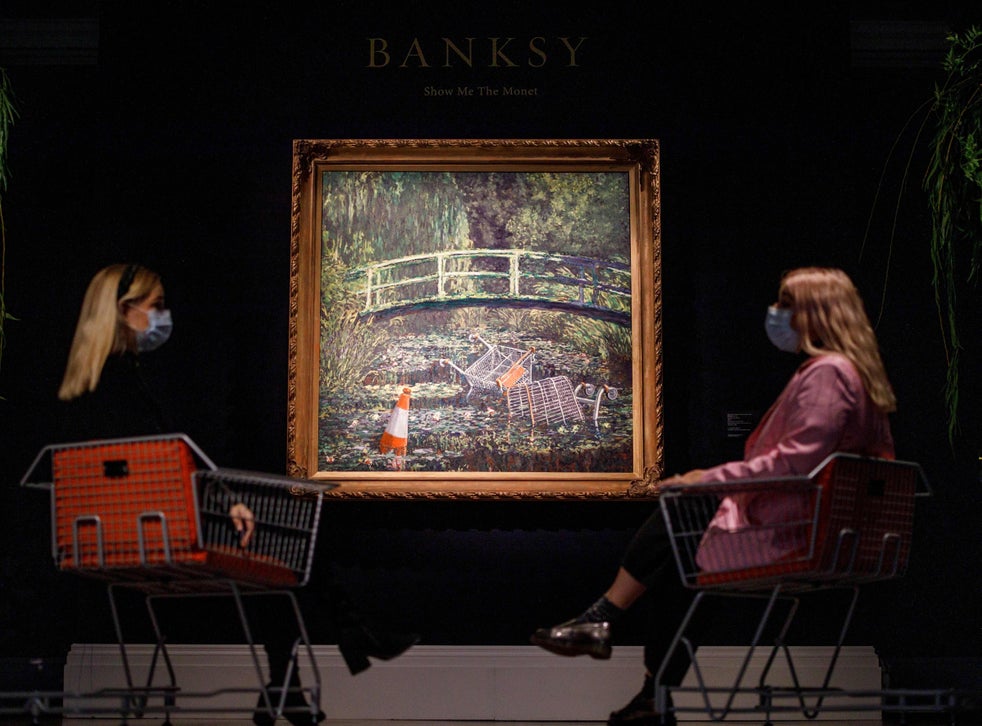 (Getty Images/Tolga Akmen)
"More canal than idyllic lily pond, Banksy litters Monet's composition with discarded shopping trollies and a fluorescent orange traffic cone. Ever prescient as a voice of protest and social dissent, here Banksy shines a light on society's disregard for the environment in favour of the wasteful excesses of consumerism."
The piece is now the second-most expensive Banksy artwork ever, behind Devolved Parliament, a painting which depicted government ministers as chimpanzees.
Devolved Parliament sold for a staggering £9.9m last year.
Show Me the Monet is part of a series by the enigmatic Banksy. Entitled Crude Oil, the series seeks to reimagine various canonical paintings, adding contemporarily satirical spins.