Cainta LGU Plans to File Cyberlibel Case vs Netizen Who Post Video of Elderly Water Vendor
Cainta LGU is planning to file a cyber libel case against the netizen who uploaded the video of an elderly vendor transferring water into a plastic bottle.
Over the past few days, the video footage of an elderly vendor transferring cold water into plastic bottles in an unhygienic way immediately spread like a wildfire online and elicits reactions from the netizens.
In the video, it can be seen that the lady street vendor scoops cold water from a styro box using her bare hands and a plastic cup. She transferred the cold water into plastic bottles beside her stall.
A netizen named Virmil Talattad filmed the vendor's act and posted it on his social media account to raise public awareness.
However, the viral 74-year-old female vendor named Bebita Manigos of Cainta, Rizal explained that she did not sell the water and used it as 'bath water' due to the hot and humid weather conditions during that day.
The female vendor gets emotional ad bursts into tears after receiving criticism due to the viral video. Talattad also apologized to Aling Bebita for posting the video.
Cainta Mayor Johnielle Keith Nieto has expressed his disappointment and rage towards Talattad for uploading the video showing Manigos refilling water into plastic bottles. He also said that the vendor has no evidence that Manigos is selling it.
Nieto is planning to file a cyber libel against the video uploader and would give P5, 000 worth of mineral water, a cart, and possible legal assistance to the vendor.
"When I reviewed it, wala man lang kahit anong basehan to say na ibinibenta niya yung mismong mineral water at wala namang refilling machine to indicate na ia-attempt niya to make it authentic. Actually nagpa-ano ako sa legal office namin ngayon just to help her because she's one of her constituents here, we might be filing a cyber libel against dun sa tao ng upload just to teach them a lesson" Mayor Nieto said.
The social media users expressed their reactions to the post: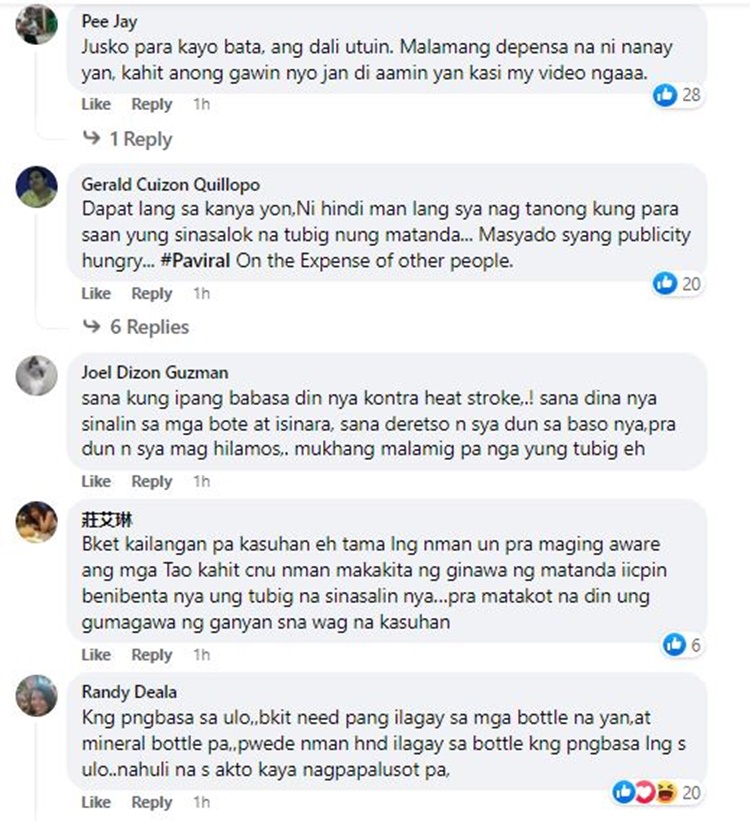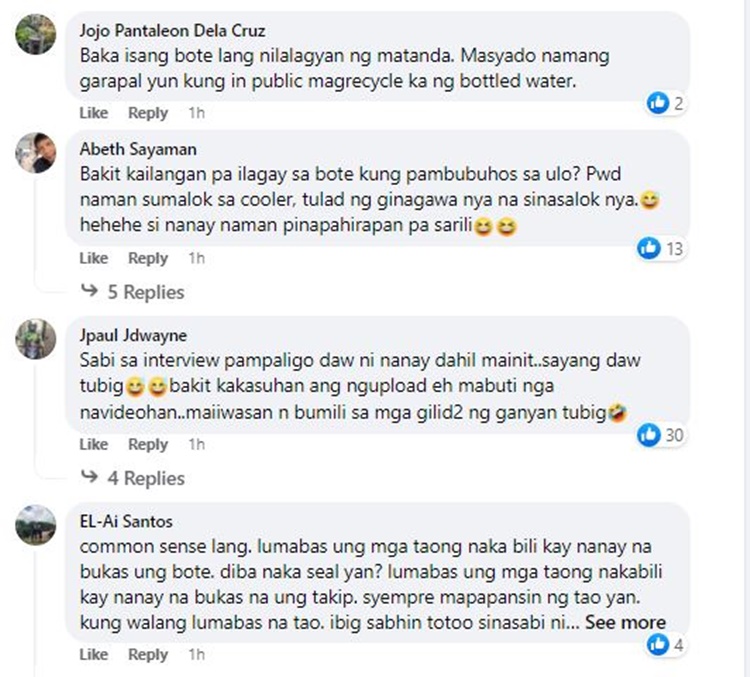 Read Also: Lady Vendor Releases Statement After Caught Transferring Water Into Plastic Bottles
Tagged as: Cainta LGU, Cyberlibel Case, Elderly Water Vendor, Netizen, Philippine Trending News, PhilNews.Ph