China is leading global talks on a major UN environment agreement for the first time with negotiations on biodiversity targets for the next decade. Today's summit was meant to be the moment that world leaders gave their input before negotiators headed to Kunming to thrash out the "Paris agreement for nature". The pandemic has delayed proceedings but repeated warnings linking the pandemic with the destruction of ecosystems and species appears to have focused minds at the highest level.
Some privately suspect that president Xi Jinping will surprise world leaders with another major environmental commitment during his speech at the summit's opening, just days after he ramped up China's carbon commitments by pledging to achieve carbon neutrality by 2060. He will address world leaders in the next hour or so.
Ahead of today's summit, Sir Robert Watson, former chair of the Intergovernmental Science-Policy Platform on Biodiversity and Ecosystem Services (IPBES), which informs the UN biodiversity negotiations with the latest science, told me China's role is "absolutely critical".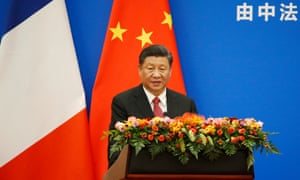 Chinese president Xi Jinping speaks at a China-France Economic Forum in November, 2019, in Beijing. Photograph: Pool/Getty Images