On a day that began with warnings by a conservative pundit that Donald Trump's final weeks in power could be his "most dangerous", and the fallout from a 46-minute speech on social media branded as "one of his most dishonest ever", the president continues to rail against the results of the 2020 presidential election as his communications director resigns.
While he refused to tell reporters whether he had any confidence in US Attorney General William Barr, the Justice Department announced that it is suing Facebook for discriminating against Americans in its hiring practices
Meanwhile, first daughter and White House adviser Ivanka Trump has hit out at the "vindictive" probe regarding her hotel work around the time of her father's inauguration, calling it a waste of taxpayer dollars. Her older brother Donald Jr is reportedly planning his future as a potential head of the National Rifle Association.
Trump's legal team has meanwhile suffered another embarrassing defeat at the Wisconsin Supreme Court, which has refused to hear their case alleging election fraud.
1607045717
US sets another record for Covid-19 hospitalisations
100,667 Americans were hospitalised on Thursday, according to The COVID Tracking Project.
It's the second consecutive day with more than 100,000 people in hospital for coronavirus.
1607044518
Alyssa Farah: White House communications director resigns in first seeming nod to Trump's defeat
White House communications director Alyssa Farah resigned on Thursday, the first seeming acknowledgment of the president's loss from his senior staff since the election.
In her resignation letter, Ms Farah referred to the administration in the past tense, and wrote that she is "deeply proud of the incredible things we were able to accomplish to make our country stronger, safer, and more secure," according to the Washington Post, which reported the departure.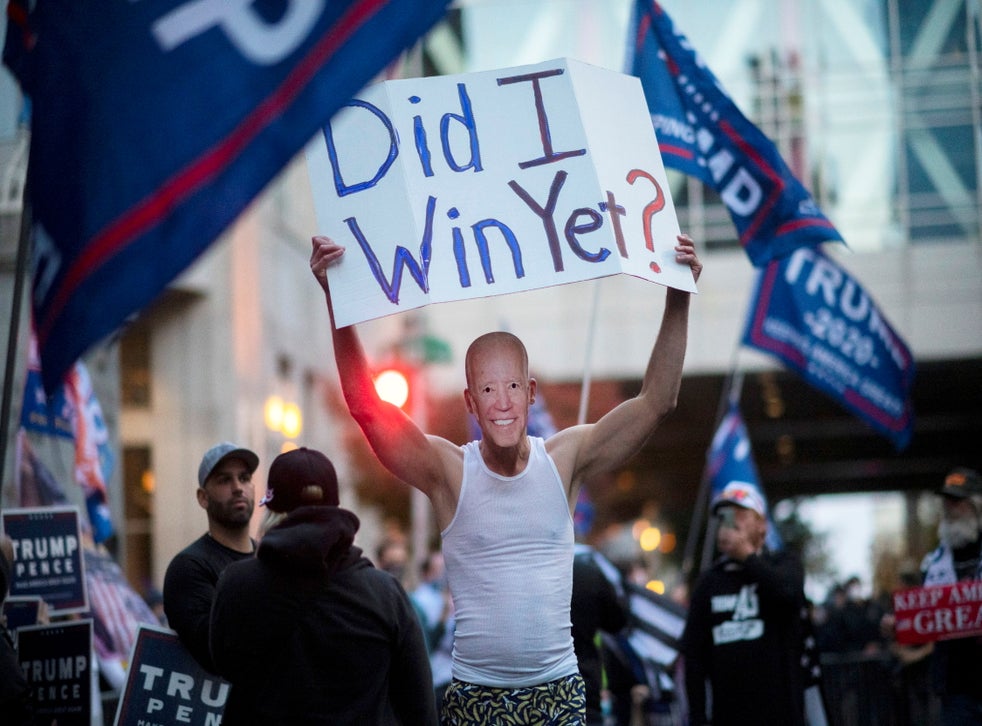 Meanwhile, the president continues to falsely claim he won the election
1607042748
Murdoch flagship WSJ turns on Trump: 'If Republicans lose seats Trump will be reason'
The Wall Street Journal's editorial board has made it clear where it stands on Trump's election fraud claims.
If Republicans don't pull out a win in Georgia, the editorial board writes, it'll be his fault, and that will be his legacy.
The right-leaning Wall Street Journal's editorial board has warned that the loss of two Republican-held senate seats in Georgia – two races that will determine the power balance in Congress – will cost Donald Trump his legacy, as he continues to mount a specious legal battle to overturn the results of the 2020 presidential election.
1607041818
Will the Biden administration go after Trump? Harris says 'we will not tell the Justice Department how to do its job'
Last year, senator Kamala Harris was among members of congress urging Trump be prosecuted. The feds would have "no choice" but to charge him with obstruction of justice when he leaves office, she told NPR in 2019.
In tonight's interview with CNN, the VP-elect toned it down: "We will not tell the Justice Department how to do its job."
"We are going to assume … that any decision coming out of the Justice Department, in particular the US Department of Justice, should be based on facts, based on the law, it should not be influenced by politics, period," she said.
1607040618
Biden's Homeland Security pick promises 'humane and secure' immigration policy
Biden's pick to lead the Department of Homeland Security has promised to administer the nation's "immigration system with integrity, in a way that is humane and secure."
Alejandro Mayorkas, speaking to the American Business Immigration Coalition, admitted that the US immigration system is "badly broken — and we all know it."
"The cost of that broken system is incalculably high," he said. "It represents a profound toll not only on families seeking to contribute to our nation and forge their own American dream, but on our economic prosperity and our moral authority as well."
He urged a stop to "vilifying" immigrant communities and to "bring to an immediate end the inhumane and unjust treatment of immigrants."
"There is no more powerful and heartbreaking example of that inhumanity than the separation of children from their parents," he said.
1607039118
Pfizer will only distribute half of promised Covid vaccines, reports say
The first doses of the Pfizer vaccine in the US are expected to be delivered to New York on 15 December with the Moderna vaccine to follow a week later if approved by the US Food and Drug Administration.
The global rollout of the first Covid-19 vaccine has been cut by half as unexpected delays hit production and distribution
1607037618
Georgia run-off elections: Warnock leading Loeffler other race deadlocked, poll says
Republican Senator Kelly Loeffeler is behind her Democrat challenger Raphael Warnock in one of two Georgia senate races, according to a poll from SurveyUSA commissioned by Atlanta's WXIA-TV.
Graeme Massie breaks it down:
State's two elections in January will decide control of Senate
1607036418
Biden may make 100-day mask plea and says he'd take vaccine on TV
Biden is considering using his Inaugural address next month to call on all Americans to wear a mask for 100 days to slow the latest spread of the coronavirus.
"Not forever," he said of his possible call to his countrymen and countrywomen. "And I think we'll see a significant reduction."
Washington chief John T Bennett reports:
President-elect Joe Biden is considering using his Inaugural address next month to call on all Americans to wear a mask for 100 days to slow the latest spread of the coronavirus.
1607035810
Joe Biden asks Dr Fauci to be part of his Covid response team
Biden told CNN's Jake Tapper that he has asked Dr Anthony Fauci "to stay on the exact same role he's had for the past several presidents, and I asked him to be a chief medical adviser for me as well, and be part of the Covid team."
Joe Biden says he has asked Dr Anthony Fauci to stay on as part of his Covid response team when he becomes president.