The White House has defended President Donald Trump's false claims the novel coronavirus "affects virtually nobody" young, as his press secretary told reporters the administration was "expecting two million" deaths in an attempt to seemingly downplay the nation's death toll of 200,000 Americans.
Mr Trump has meanwhile confirmed he will name his pick to succeed the late Ruth Bader Ginsburg on the Supreme Court on Saturday, ignoring the dying woman's last wish as senate leader Mitch McConnell was accused of "defiling" the governing body in the pursuit of conservative justices.
Please allow a moment for our liveblog to load
1600814375
Trump to announce SCOTUS pick on Saturday
Donald Trump will announce his pick for Supreme Court justice – what will be his third appointment to the lifetime seat within his first term in office – at 5pm on Saturday, he announced.
The president's pick will follow a week of memorials and other services for Justice Ruth Bader Ginsburg, who died on 18 September.
Republican Senate Leader Mitch McConnell has reportedly suggested Judge Amy Coney Barrett for the role.
The president met with the judge at the White House this week.
1600812938
It's not just Roe v Wade. Trump's Supreme Court pick could challenge Brown v Board of Education
Andrew Feinberg writes that legal experts and Washington veterans fear that discussions about abortion could be obscuring Trump nominees' hostility to another landmark civil rights case – Brown v. Board of Education of Topeka, which declared that "in the field of public education, the doctrine of 'separate but equal' has no place."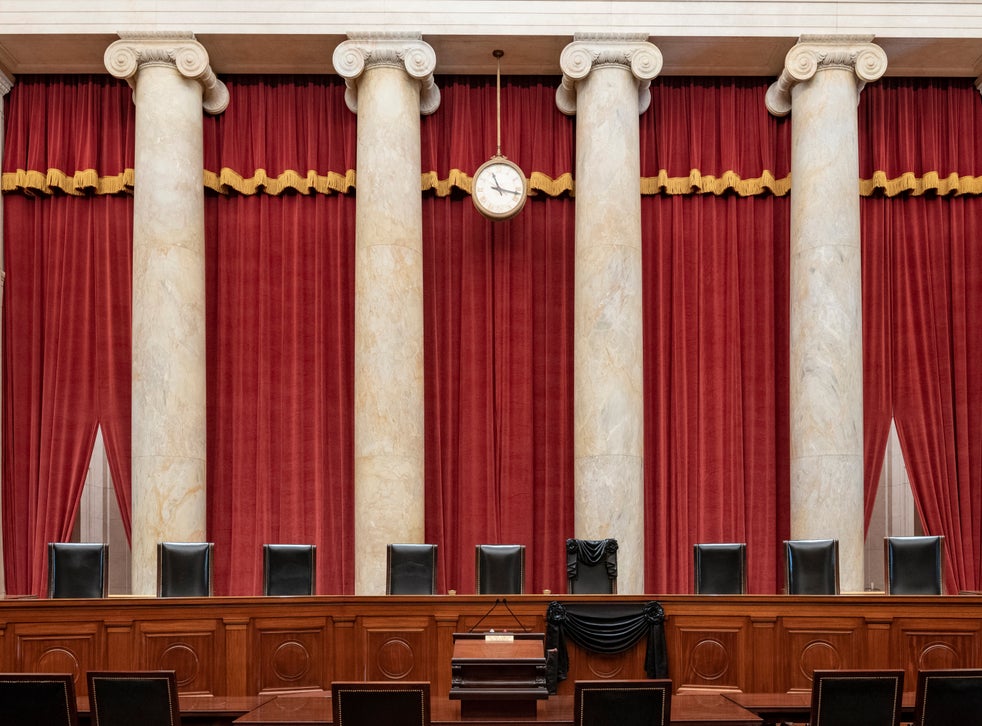 Nearly 30 Trump nominees have refused to say the ruling in the landmark case — which overturned segregaton in schools — was the correct one
1600811138
Everything you've ever wanted to know about 'packing the court'
Washington correspondent Griffin Connolly has the nuts-and-bolts history on the makeup of the Supreme Court and why it has been such a hot topic this election cycle.
A nuts-and-bolts history on the makeup of the Supreme Court and why it has been such a hot topic this election cycle
1600810000
Mitch McConnell will decide on schedule of SCOTUS vote after confirmation hearings
Senate Majority Leader Mitch McConnell, who has committed to moving forward with Donald Trump's Supreme Court nominee weeks before Election Day, did not say whether he would hold a vote for the president's pick by 3 November, as the GOP pushes for a rapid confirmation process.
Senator McConnell said he wait until Senate Judiciary Committee hearings have wrapped before scheduling a floor vote.
"When the nomination comes out of committee, then I'll decide when and how to proceed,," he said on Tuesday.
Hearings could begin as soon as 12 October with a floor vote by the end of the month.
1600807538
'Sobering and stunning': Dr Fauci warns against surging Covid cases as death toll reaches 200,000 and Trump remains silent
Dr Anthony Fauci has warned that the US must significantly reduce its daily average of new coronavirus cases by following simple public health protocols or risk another surge in infections, as the nation's death toll for Covid-19 has eclipsed the loss of more than 200,000 lives.
"The idea of 200,000 deaths is really very sobering and in some respects stunning," the nation's leading infectious disease expert told CNN's Sanjay Gupta on Tuesday.
"We have the capability to do things that we've been speaking about for so long … that could prevent the transmission, and by preventing transmission, ultimately preventing the morbidity and mortality we see," he said.
Guidelines urged by public health officials for months – wearing face coverings, avoiding groups, physically distancing from others – "are not being universally implemented," he said.
Infectious disease expert urges Americans to follow public health guidelines
1600805611
Deported Canadian arrested for sending ricin to Trump may have tweeted about attack days earlier
Oliver O'Connell writes: Authorities have identified the Canadian woman accused of sending president Donald Trump a letter containing the poison ricin.
Pascale Ferrier of Quebec was taken into custody by US Customs and Border Protection agents on Sunday at the Peace Bridge border crossing near Buffalo, New York.
In the letter she sent to the White House Ferrier told the president to "give up and remove your application for this election," according to court papers filed on Tuesday.
CBC reported that a search was being carried out at an apartment near Montreal and that officials believed six letters were sent by Ms Ferrier — one to the White House, and five to addresses in Texas.
Sheriff Eddie Guerra of Hidalgo County, Texas, said on Monday that he and three of his staff received mail tainted with ricin, but were unharmed.
The fifth letter is believed to have been sent to the police department in Mission, Texas.
Poisoned letter told Trump to 'give up and remove your application for this election'
1600803644
White House launches nasty attack on Pence aide-turned-whistleblower
John Bennett writes: The White House launched a personal attack on a former aide who has criticised Donald Trump over the number of coronavirus cases and deaths in the United States.
"I am proud of the president," retired Army three-star General Keith Kellogg, Vice President Mike Pence's national security adviser, told reporters on Tuesday. "
'Sad that Gen. Kellogg is telling a bald faced lie to protect the President,' Olivia Troye responds in tweet
1600802144
White House press secretary: We were expecting two million deaths
John Bennett writes: The White House defended Donald Trump as the number of confirmed coronavirus deaths passed 200,000, saying administration officials were expecting 2m from "the Covid."
Press Secretary Kayleigh McEnany made the claim even though the largest number the president had used publicly was 200,000. Mr Trump has faced a backlash over comments he made in private to journalist Bob Woodward that described the disease in more stark terms than he used in public.
Asked about what he told Mr Woodward about young people being affected by it in February and what he said about young people at a campaign rally on Monday night, Ms McEnany said "we know a lot more about" Covid-19 now. She noted the president said that the previous night.
"The president has never downplayed critical medical information," she contended, even though he was recorded by Mr Woodward appearing to do just that.
The latest breaking news, comment and features from The Independent.
1600800756
Trump touts America's 'exceptional' record on the environment
The president crammed a lot into his brief seven-minute speech (less than half the time allotted), Louise Boyle writes.
After attacking China over the coronavirus outbreak, he then blamed the country for ocean pollution, overfishing, coral reef destruction, and releasing mercury into the atmosphere.
He also touted America's environmental record claiming that the US has reduced its carbon emissions more than any other signatory to the Paris Climate Accords - the global agreement which Mr Trump's plans to exit if he wins re-election in November.
He said: "Those who attack America's exceptional environmental record while ignoring China's rampant pollution are not interested in the environment. They only want to punish America, and I will not stand for it."
1600799144
'Desperate for ammunition': Trump accused of turning UN speech into election rally after railing against China over Covid
Donald Trump celebrated his administration's response to the coronavirus pandemic and blamed China for the "plague" the country "unleashed onto the world" in a speech delivered to the United Nations General Assembly in New York that was quickly decried by critics as a "virtual, campaign-like address".
The president attacked Beijing and demanded the world hold the nation "accountable for their actions", suggesting China inadequately responded to its first-known outbreak of the novel coronavirus in Wuhan.
"As we pursue this bright future, we must hold accountable the nation which unleashed this plague onto the world: China," Mr Trump said in the pre-recorded remarks. "The Chinese government and the World Health Organization, which is virtually controlled by China, falsely declared that there was no evidence of human to human transmission."
He added: "The United Nations must hold China accountable for their actions."
The statements appeared to echo previous claims the president has made surrounding China's effort to curb the coronavirus pandemic. Mr Trump has previously said he's seen evidence suggesting the virus came from a lab in China, a theory that has been largely debunked by the international scientific community and refuted by his own intelligence agencies.
Susi Dennison from the European Council on Foreign Relations said in a statement sent to The Independent that she viewed the speech as Mr Trump being "desperate for ammunition" while vying for his re-election.
Trump has continued his policy of angry unilateralism" by "taking aim" at China in his speech, Ms Dennison said, adding how the president has "broken European citizens' trust in the US".