Donald Trump has at last begun the official process of transition from his administration to Joe Biden's, but continues to make bad-faith claims about the security of the US election on Twitter.
Emily Murphy, the Trump-appointed head of the General Services Administration, said on Monday the federal government recognised Mr Biden as the "apparent winner", while the president said he had ordered his official to cooperate with the incoming Democratic leadership.
But, though one observer said the beginning of transition appeared to be "a passing attempt at adulthood" by Mr Trump, he has continued to lie about what he claims was the most corrupt election ever. There is no evidence to support that, and his own security officials have said the opposite is true.
"We are moving full speed ahead. Will never concede to fake ballots & 'Dominion'," Mr Trump tweeted, referring to a vote-counting system he blames for his defeat.
Meanwhile, Mr Biden and Kamala Harris are preparing to formally unveil their national security team at an event this afternoon. The roster includes Avril Haines as national intelligence director, the first woman to hold that post, and Antony Blinken as secretary of state.
1606203878
Trump finally signs off on Biden transition in 'best interests of country' but still won't admit he lost
Our full story on last night's big development
Donald Trump has authorised the official transition from his administration to that of president-elect Joe Biden to begin – even while insisting against the odds that his fight to overturn the Democrats' victory will continue.
Fours years after delivering a surprise victory over Hillary Clinton and almost three weeks after election day this year, the president announced he was ordering the government body charged with overseeing the transition process to start its work.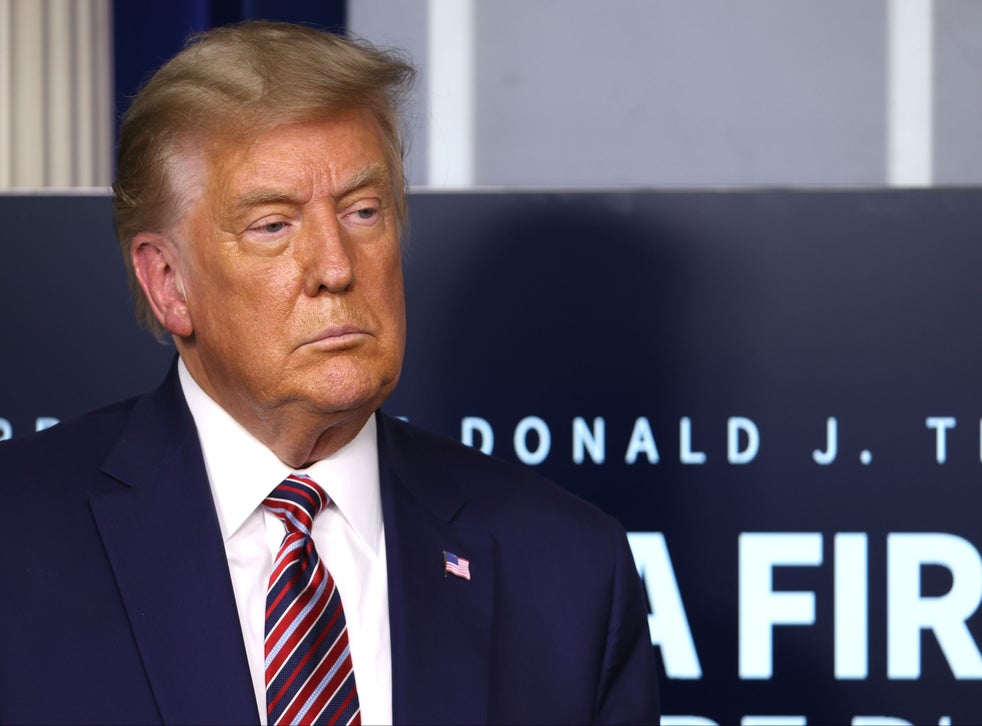 Joe Biden welcomes announcement as 'definitive'
1606201581
Trump: 'Will never concede'
Just a few hours after announcing that the transition process would be allowed to proceed, Donald Trump has again taken to Twitter to clarify that this doesn't mean he is giving up on fighting the election result.
'Will never concede to fake ballots & "Dominion"', writes president, a reference to a brand of voting machines
1606198166
Trump losing faith in legal team
Donald Trump says he will continue to fight his legal battles over the election result even after accepting that the transition process must begin – but privately the president has expressed mounting concern that the legal team he has assembled are "fools… making him look bad", according to NBC News.
President has finally admitted a transition process must begin, but still vows to continue his legal battles
1606194055
Trump advisors told him he did not have to say 'concede' but 'it was time to move on'
1606192255
Another Republican senator publicly sides with Joe Biden
Senator Bill Cassidy from Louisiana took to Twitter to say that Joe Biden had defeated Donald Trump.
1606189555
Trump goes out with a whimper and a tweet. It was always going to be that way
In the end, the president who roared like a lion went out with a whimper. Those who have followed him knew it would end this way, writes Washington Bureau Chief John T. Bennett
1606186855
Biden welcomes formal transition process needed to get pandemic 'under control'
The General Services Administration formerly approved the transition to a Biden administration on Monday
1606184155
Ilhan Omar and others celebrate as president finally begins transition
Congresswoman was subject of racist campaign rants by president
1606181455
Trump's transition remarks called 'a passing attempt at adulthood'
The president's move to allow his administration to work with Joe Biden's transition team was welcomed by Stacey Abrams.
1606179655
Michigan governor welcomes certification of election results
Michigan governor Gretchen Whitmer has welcomed the certification of the state's election results.
Ms Whitmer, a favourite target of Donald Trump, took to Twitter to commend the three members of the state's Board of Canvassers who officially awarded the win to Joe Biden.