The admission at a Thanksgiving press conference was a departure from the president's previous taunting suggestions that he might attempt to stay on as leader illegitimately.
Mr Trump used the news conference to air his usual false claims of election fraud and complain about how unfairly he was being treated. When a reporter tried to ask him a follow-up question, he snapped: "I'm the president of the United States. Don't ever talk to the president that way."
However, during the briefing Twitter users mocked the president's small table and joked that he was wearing a nappy while speaking to reporters. On Twitter, #DiaperDon became a trending topic – leading the commander in chief to declare the social network a national security threat and call, again, for the protections of Section 230 to be removed.
1606482404
Covid: America facing 'darkest days' in modern medical history if virus isn't controlled, warns top medic
America could face its "darkest days" in modern medical history if the coronavirus crisis is not brought under control, a top medic has warned.
Dr Varon Joseph, chief of staff at Houston's United Memorial Center, said a surge of infections over the Thanksgiving and Christmas holidays may push hospitals to breaking point, writes Matt Mathers.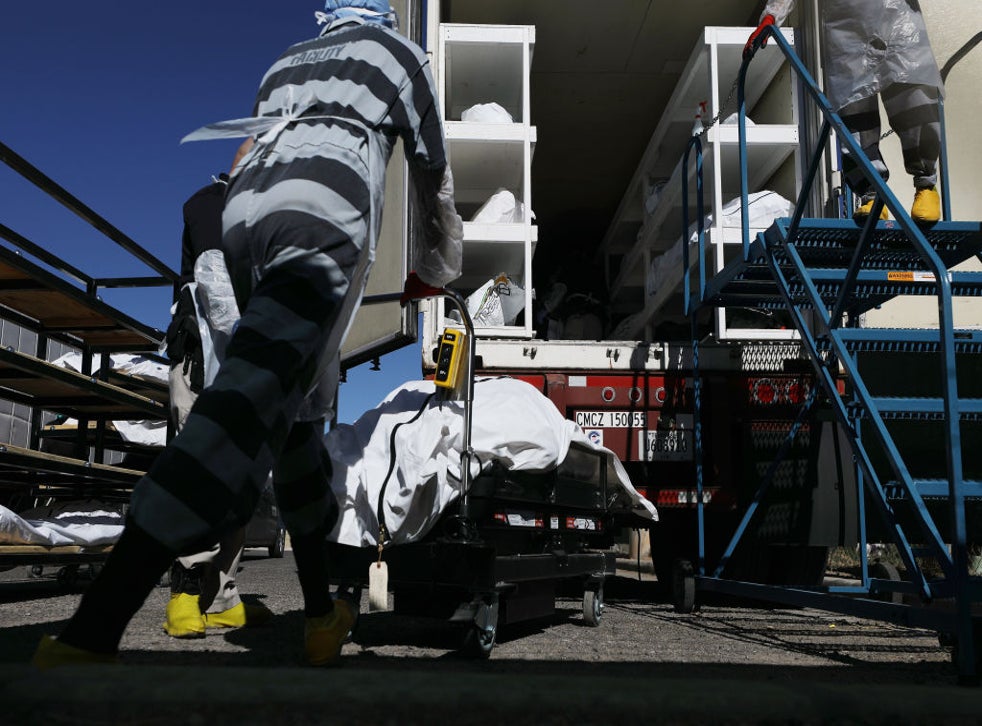 'I know that a lot of people are going to get sick after Thanksgiving', says doctor
1606481264
Biden's win hides a dire warning for Democrats in rural US
Democrats once dominated Koochiching County in the blue-collar Iron Range of northern Minnesota But in this month's presidential election, President Donald Trump won it with 60% of the vote.
That's not because voters there are suddenly shifting to the right, said Tom Bakk, who represents the area in the state Senate. It's because, he said, Democrats have steadily moved too far to the left for many rural voters.
"We've got to see if we can get the Democratic Party to moderate and accept the fact that rural Minnesota is not getting more conservative," said Bakk, who announced last week that he would become an independent after serving 25 years as a Democrat. "It's that you guys are leaving them behind."
Democrat Joe Biden may have produced a winning national formula, but it wasn't by trimming — or even holding — Donald Trump's 2016 winning margins in hundreds of counties across the agricultural and industrial north
1606480351
Trump awakens
So far, it's just a retweet of his campaign account trailing the first distribution of coronavirus vaccines…
1606480244
Can Donald Trump pardon himself?
Despite Donald Trump's arguments to the contrary, his time in the Oval Office is coming to a close.
Though his time in office has been anything but traditional, the president will almost certainly take advantage of one outgoing presidential tradition; issuing a slew of pardons, writes Graig Graziosi.
There is no legal or historical precedent for a president pardoning themselves.
1606478504
Trump says he'll leave the White House if the Electoral College formalises Biden's victory
Trump says he'll leave the White House if the Electoral College formalises Biden's victory
1606477749
Opinion: We now know the truth about the US economy — it's easy to fix if Republicans will do it
Two sentences from the political scientist Michael Robinson stand out as America tries to surge out of the coronavirus crisis: The US economy is the ultimate disproof of the computer programmer's maxim that if you put garbage in, you get garbage out. Americans make garbage policy all the time, Robinson told a senior seminar I attended during college in 1982, but the US economy is almost always OK.
We're about to find out if Robinson was right, writes Tim Mullaney.
The latest data shows how quickly we can bounce back from Covid, but also how badly we could be hit if the GOP does nothing
1606475496
Donald Trump has angrily declared Twitter a national security threat after #DiaperDon went viral following a news conference in which he repeatedly complained about perceived injustices, writes Tom Embury-Dennis.
"Twitter is sending out totally false 'Trends' that have absolutely nothing to do with what is really trending in the world. They make it up, and only negative 'stuff'," the US president tweeted in the early hours of Friday morning.
1606473944
Man sues for refund of $2.5m he donated to Trump election challenge group
A man who donated $2.5m to help Donald Trump's crusade to overturn the elections is asking for his money back, writes Graig Graziosi.
Fred Eshelman, the donor, is suing Houston-based "True the Vote Inc" for what he claims are "empty promises," Bloomberg reported.
True The Vote claimed it had a multi-part plan to "investigate, litigate and expose suspected illegal balloting and fraud in the 2020 general election," the lawsuit said.
Group offered man $1m not to sue them
1606472792
Trump falsely claims he won the election 'by a tremendous amount'
Trump falsely claims he won the election 'by a tremendous amount'
1606471952
Latest US coronavirus figures
Some 1,232 people died with coronavirus in the US on Thanksgiving, according to Johns Hopkins University.
There were 110,611 new infections recorded.
More about
Subscribe to Independent Premium to bookmark this article
Want to bookmark your favourite articles and stories to read or reference later? Start your Independent Premium subscription today.