Presidente de los Estados Unidos, Donald Trump
Donald Trump 's campaign has filed a lawsuit in Georgia that asks the court to "order a new election" in the state, following what it claims were "tens of thousands of illegal votes".
The baseless claims of election fraud come as Georgia's Republican secretary of state, Brad Raffensperger, has repeatedly insisted the results of the 3 November contest are valid.
The fresh court challenge comes as Mr Trump prepares head to Georgia to deliver his first rally since his defeat to Joe Biden.
1607163253
Trump prepares for first rally since election defeat
Donald Trump will travel to Georgia later today to attend a rally in support of Republican senate candidates Kelly Loeffler and David Perdue, who are in a run-off contest with their Democratic opponents.
Republicans are likely to be anxious about what the US president might say during the rally, as he has repeatedly assailed Republican officials there who he perceives as not doing enough to overturn the state's election result, which saw Mr Trump lose to Joe Biden.
1607161828
Trump campaign files lawsuit to 'order a new election' in Georgia
The Trump campaign has filed a lawsuit in Georgia asking a state court to "order a new election to be conducted in the presidential race," citing "tens of thousands of illegal votes" in a statement to the press on Friday.
"What was filed today clearly documents that there are literally tens of thousands of illegal votes that were cast, counted, and included in the tabulations the Secretary of State is preparing to certify," Ray S. Smith III, lead counsel for the Trump campaign, said in the statement. "The Secretary of State has orchestrated the worst excuse for an election in Georgia history," he added.
Georgia secretary of state Brad Raffensperger, a Republican and Trump supporter, has repeatedly reinforced that the election results are valid. There has been no evidence yet of widespread voter fraud in the state.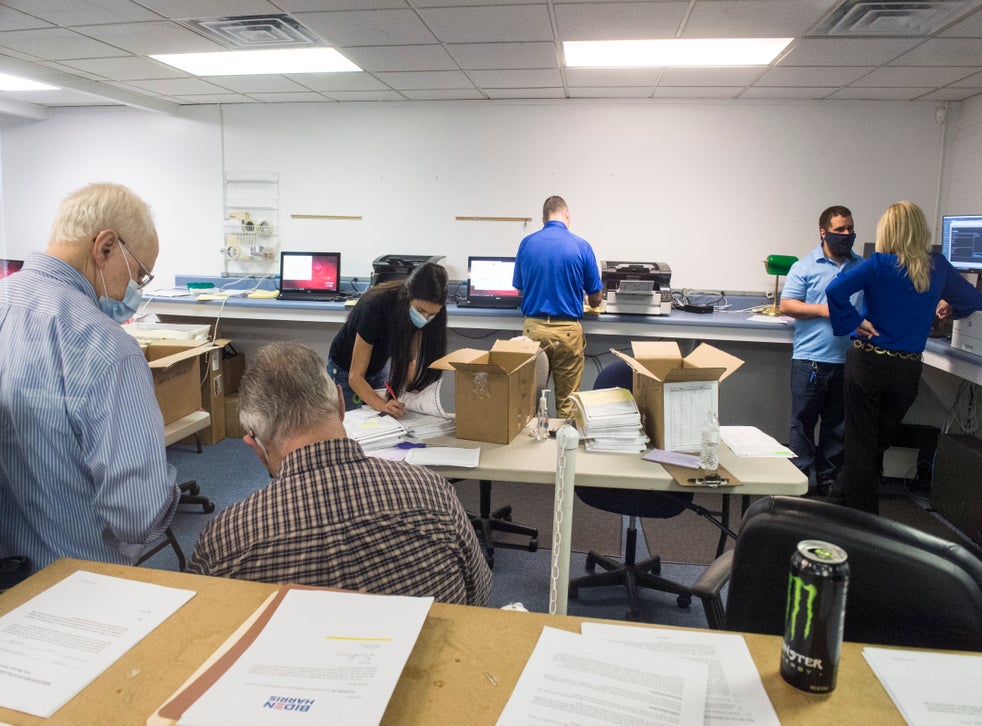 President has long claimed without substantial evidence that Georgia election results are a fraud
1607161059
Trump administration must accept new DACA applications
The Trump administration must accept new applications for the Deferred Action for Childhood Arrivals programme that protects some young immigrants from deportation, a federal judge ruled on Friday, in vacating a memo from the acting Homeland Security secretary that had suspended it.
US District Judge Nicholas Garaufis said the government had to post a public notice within three days — including on its website and the websites of all other relevant government agencies — that new DACA applications were being accepted.
The ruling follows one from November where Judge Garaufis said Acting Department of Homeland Security secretary Chad Wolf was unlawfully in his position.
On Friday, the judge said that invalidated the memo Mr Wolf had issued in July suspending DACA for new applications and reducing how long renewals were valid from two years down to one year.
1607159906
Trump 'now 46-1' in post-election court defeats
The Trump campaign has now lost 46 court challenges seeking to overturn the result of the election, according to lawyer and Democrat Marc Elias.
Legal challenges were dismissed or denied in states including Michigan, Georgia, Nevada and Arizona on Friday, Mr Elias said.
1607159128
Biden officially secures enough electors to become president
California certified its presidential election Friday and appointed 55 electors pledged to vote for Democrat Joe Biden officially handing him the Electoral College majority needed to win the White House.
Secretary of State Alex Padilla s formal approval of Biden's win in the state brought his tally of pledged electors so far to 279, according to a tally by The Associated Press. That's just over the 270 threshold for victory.
These steps in the election are often ignored formalities. But the hidden mechanics of electing a US president have drawn new scrutiny this year as Donald Trump continues to deny Mr Biden's victory and pursues increasingly specious legal strategies aimed at overturning the results before they are finalised.
California has certified its presidential election and appointed 55 electors pledged to vote for Joe Biden, officially handing the Democrat the Electoral College majority needed to win the White House
1607158876
Good morning and welcome to The Independent's up-to-the-minute coverage of all the post-US election news from the White House and beyond.