And here is what we can expect from Team USA in the hours ahead. Just a hunch, but I think they will win some medals.
10.05pm EDT: men's shot put final
Ryan Crouser, the 28-year-old American who holds the world record in both indoor and outdoor shot put, has a great chance at his second Olympic gold. Crouser won the shot put competition in Rio de Janeiro, where he set an Olympic record, and at the US trials in June, he set a new world record with a 23.37m throw. Crouser had the best throw in the semi-final by a margin of more than half a meter. Two other Americans, Payton Otterdahl and Joe Kovacs, earned berths in the final, too, grabbing the last two qualifying spots.
10.55pm EDT: men's 110m hurdles final
Both Americans competing in the men's 110m hurdles won their respective semi-final races; Grant Holloway finished with just a slightly faster time than Devon Allen. Holloway is the reigning world champion in the event, and Allen made the US team for Rio and finished fifth in the event. Each has a solid chance to medal.
6am EDT: women's pole vault final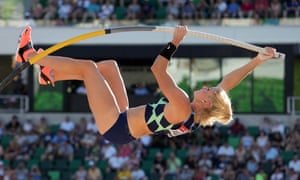 Katie Nageotte makes her Tokyo bow later today in Tokyo. Photograph: Kirby Lee/USA Today Sports
Katie Nageotte, 30, is competing in her first Olympics after missing the team by two spots in 2016. She set an Olympic trials record with her vault in June, and Morgann Leleux Romero finished second behind her there and also secured a spot in the final in Tokyo. Sandi Morris, the American who won silver in Rio, won't get a chance to defend her medal after she was injured when her pole broke in a qualifying round.
2.35am EDT: men's featherweight boxing final bout
Duke Ragan defeated Ghana's Samual Takyi on Monday to earn a spot in the gold-medal bout, where he'll face Albert Batyrgaziev of Russia. Ragan, 22, is 4-0 as a pro, with one TKO; these are his first Olympics, and he turned pro in 2020. Batyrgaziev, 23, also turned pro last year and is 3-0 since. He's won all three bouts in TKOs. Should Ragan take gold, he'll snap the US's streak of 17 years without a boxing gold at the Games.
4am EDT: women's soccer bronze medal match
Yes, these Olympics have felt like a turning point for the USWNT, which lost their opening group stage game to Sweden, 3-0. The women coasted to a 6-1 victory over New Zealand after that, but in the three games since, the going's been tough, and they ultimately lost, 1-0, to Canada in the semi-final Monday. In the bronze medal match, the US face Australia, the team they played to a 0-0 draw in the group stage. A win, and the women will salvage a medal.