The full length trailer for season four of The Crown has been released.
According to the new footage, which was released on Thursday (29 October), the new season of Netflix's royal drama will focus on two key parts of royal history.
"Two women running the shop, that's the last thing this country needs," Prince Philip (Tobias Menzies) is heard telling Elizabeth, only for the Queen to reply: "Perhaps that's precisely what this country needs."
However, there is clear tension between the two leaders, with Thatcher telling the Queen that she is the more senior of the two of them.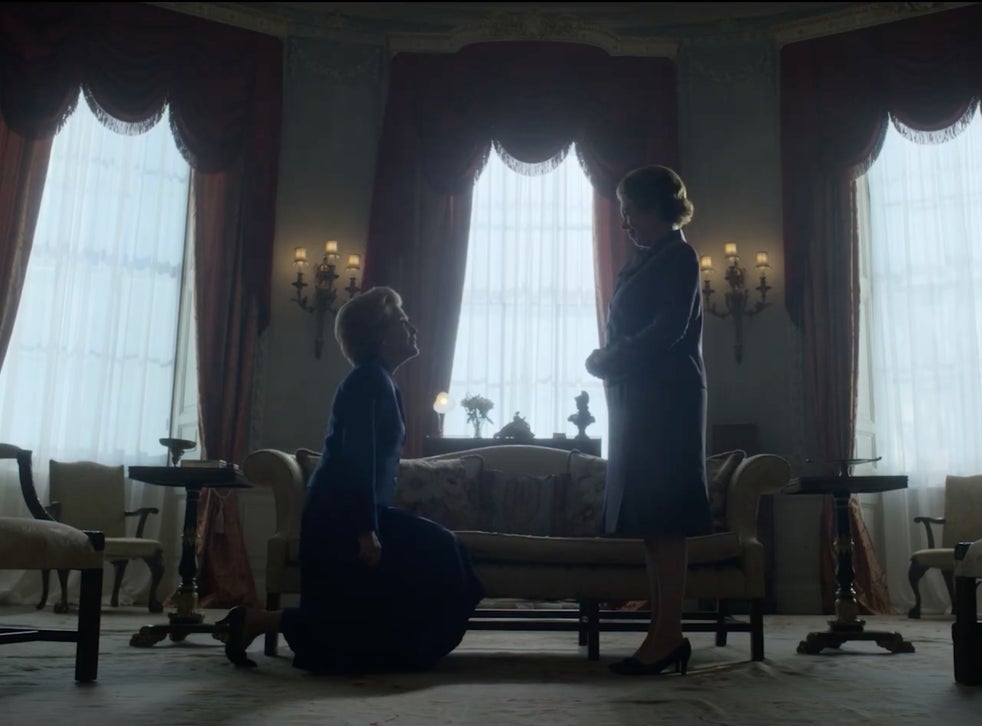 Thatcher (Anderson) kneels before the Queen (Colman)
(Netflix)
"It's a dangerous game to make enemies left, right and centre," Elizabeth tells the Conservative politician. "What if one is comfortable with having enemies?," Thatcher responds.
The latter half of the trailer shows Prince Charles (Josh O'Connor) being told that he will be king in the future and must choose a wife "that people will love as a princess and, in due course, as queen".
Fans are then introduced to a dancing, roller-skating young Diana Spencer (Emma Corrin) as Prince Charles's future bride, with the Queen struggling with Diana's free-spirited nature and unwillingness to bend to the rules.
"All I want is to be loved, that's all any of us want from you," a teary Diana tells Elizabeth, as she looks on stony faced.
Season four of The Crown will mark Colman's last outing as the Queen, with Imelda Staunton due to play her in seasons five and six.
The Crown season four will be available to stream on Netflix on 15 November.