Jeremy Corbyn should now be subjected by the Labour Party, according to the former Labour MP, Luciana Berger, who has been reacting to the EHRC report.
Berger left the Labour party in February 2019 over what she calls "a culture of bullying, bigotry and intimidation" and which left her in need of a police escort to the Labour Party annual conference.
"These things happened in plain sight. They didn't happen behind closed doors," Berger told BBC Radio 5 Live, adding that there was "so much" that the former Labour leader "could have and should have done" to deal with antisemitic abuse when he was in charge.
Asked by BBC presenter Emma Barnett if she believed Corbyn himself was antisemitic, Berger replied: "I call a spade a spade. If someone themselves makes antisemitic comments. If someone themsleves shares platforms with antisemites they are antisemitic."
The answer to Barnett's question was "yes, absolutely."
Jeremy Corbyn has denied being antisemitic and has said that he has worked tirelessly against all forms of racism.
The Labour MP and shadow foreign secretary, Lisa Nandy, was subsequently pressed by BBC presenter Emma Barnett on whether Corbyn is "fit and proper" to remain a Labour MP.
Nandy said she was not going to come on the radio and "start pontificating" about random MPs. She stressed that she had repeatedly spoke about about the failure to tackle antisemitism and that there had been a failure of leadership.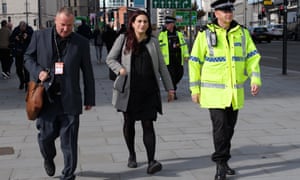 The then Labour MP, Luciana Berger, returns to the conference centre in 2018 with her police security detail. Photograph: Leon Neal/Getty Images