Britain's world champion hurdler Andrew Pozzi fears his Olympic ambitions are under threat because of new Brexit rules that could force him to quit his training base in Italy.
On a day when Amy-Eloise Markovc rose from obscurity to win Britain's first gold of these European Indoor Championships, Pozzi revealed he was desperately trying to get permanent residency to remain training with the Cuban hurdling guru Santiago Antunez – whom he credits with revitalising his career – in Formia.
But the 28-year-old admitted it was proving a "tricky" process. "If any of you guys want to use your powers to help lobby for sports visas or anything like that, then feel free," he added. "Getting information about the best way to continue in Italy has been very difficult."
Pozzi – the hot favourite to add the European Indoor 60m hurdle title in Torun, Poland, to his world indoor crown this weekend – said he had fallen victim to new Brexit rules that allow UK passport holders to spend only up to 90 days in the Schengen zone during any 180-day period.
That, said Pozzi, was hardly ideal in an Olympic year. "The good thing for me is I have the support of the training centre in Formia," he added. "But the current rule is that you can only be in Europe 90 days out of every 180. Obviously for an athlete that is not sustainable and it is not the way to prepare." Under Antunez, Pozzi has focused on rhythm-based exercises and drills – often to salsa music – and says he is in the best shape of his life.
But he admits the consequences of leaving the Cuban in an Olympic year could be devastating.
"I have lost an awful lot of years in my career to injury," he added. "It has been a big part of my career. We have done everything we can to make sure I stay in the best shape possible and keep making progress. It looks like the Olympics are going to go ahead – and you don't want to give it away."
Meanwhile on the track on Friday night, there were two British medals in the women's 3000m, with the 25-year-old Markovc taking gold in a thrilling sprint finish in 8min 46.43sec ahead of Verity Ockenden, who took bronze. France's Alice Finot split the two to take silver.
Markovc, who was born in Stockport but moved to the US as a child, said afterwards she was thrilled to take gold – albeit in a weak field. "It's difficult coming into your first championship and being nervous because you haven't competed on the big stage before, but I wanted to take every opportunity," she said.
"I felt strong and I felt I needed to kick a bit earlier. Because I'm quite good over a longer kick. I had to trust my instincts that could hold it."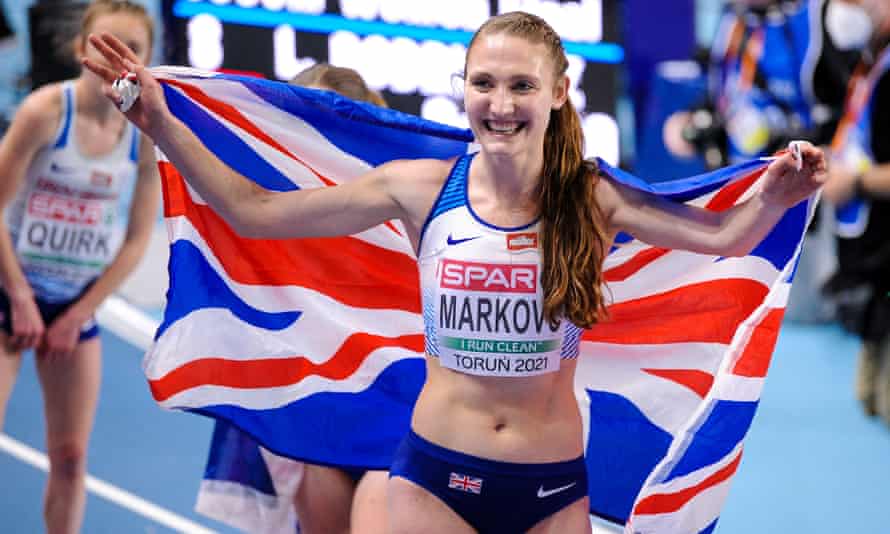 Amy-Eloise Markovc basks in her 3000m victory at the European Indoor Championships in Torun.

Photograph: PressFocus/MB Media/Getty Images
Markovc, who was ranked 101st in the world over 5,000m last year, said her goal was now to qualify for the Olympics. "Unfortunately things are up in the air now because of Covid," she added.
But there was no joy for Britain in the men's 1500m as Piers Copeland finished fourth and Neil Gourley never recovered after stumbling on the start line and ended up 11th.
The race was eventually won by the brilliant Norwegian Jakob Ingebrigtsen – although it took more than two hours for the result to be confirmed after he was initially disqualified for stepping off the track. The decision looked harsh given that Ingebrigtsen had been pushed first and the Norwegian team were able to successfully appeal against the decision. That relegated the Pole Marcin Lewandowski to silver with the Spaniard Jesús Gómez claiming bronze.
The Olympic heptathlon champion Nafi Thiam won the pentathlon with 4,904 points – 113 points clear of her nearest rival. Britain's Holly Hills, who was making her senior debut, performed creditably to finish fifth on 4,517.
Most of the medals will be decided on Saturday and Sunday, but other British athletes have made an encouraging start too. The young 800m star Keely Hodgkinson, who turned 19 on Wednesday, looked particularly good in qualifying for her semi-final in 2:05:64 – along with fellow Britons Ellie Baker and Isabelle Boffey.
Meanwhile Holly Archer and Katie Snowden are through to the women's 1500m final, with Archer finishing strongly to run a personal best of 4:09:77.