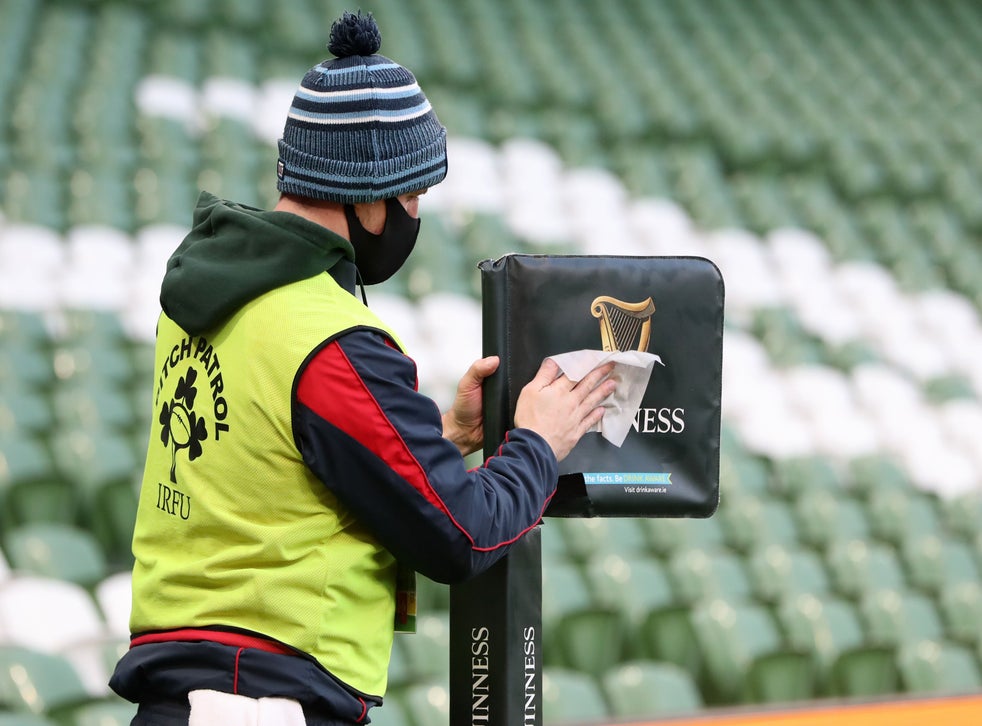 Ireland take on Scotland at the Aviva Stadium in the Autumn Nations Cup
(AFP via Getty)
After Georgia and Fiji raised the curtain on today's action, it's the turn of the two group runners-up to take centre stage in the third-place play-off. It's of course not the game that either wanted to be in, with Ireland coming unstuck against England earlier in the tournament while Scotland lost their decider to the French, but both sides have signalled their intent to end the year on a high with the Six Nations just around the corner.
Ireland will be led by returning captain Johnny Sexton who has recovered from a hamstring strain suffered in the opening game against Wales, while Scotland turn to debutant fly-half Jaco van der Welt in the hope of finding a replacement for injured duo Finn Russell and Adam Hastings. Follow the live updates below.
1607172743
Half-time: Georgia 10-19 Fiji
Oh what could have been for Fiji! They've certainly shown the trouble that they can cause all sides so far, with a flying start to the match seeing the Pacific Islanders score three tries in the opening 18 minutes. All that frustration of four weeks cooped up in quarantine was unleashed on a Georgia side that that simply couldn't live with Fiji's power early on.
Nemani Nadolo and Josua Tuisova showed exactly that as the two giant wings scored either side of Johnny Dyer's close-range score, and at that stage Fiji looked like romping clear on the scoreboard.
But as the weather worsened, Georgia found a foothold in the match and managed to fight their way back into the contest with a try from replacement prop Giorgi Melikidze, and they've let a couple of other chances slip by that could really have made it interesting.
The first score in the second half is going to be crucial here.
1607172398
40 mins: Georgia 10-19 Fiji
Its survival for Fiji as Melikidze flops off his feet to seal off the ruck, allowing Fiji to put the ball into touch and end the half - and what an opening half it was!
1607172322
39 mins: Georgia 10-19 Fiji
Georgia are really starting to take control of the scrum and with Fiji in reverse, they draw a knock-on out of Radradra. Abzhandadze spots space over behind Nadolo and chips for Tabutsadze to chase, but the bounce just does the Georgian wing and Fiji are able to regain possession. Kunavula brings the ball out of the 22, but again it's turned over and Georgia have one last chance to score here before half-time.
1607171944
33 mins: Georgia 10-19 Fiji
The conditions are starting to take their toll now - it's really chucking it down - as full-back Matiashvili loses his footing after fielding one of many high kicks. It's eventually returned and Tuisova drops another one to give Georgia possession on the halfway line in the form of a scrum.
1607171729
30 mins: Georgia 10-19 Fiji
Fiji show they can do the hard yards too as they make up some 20 metres from a lineout maul that has Georgia in plenty of trouble, but Lomani's pass back to Volavola is very loose and misses the target, costing them all that precious ground. Lomani elects to box-kick, and although Tuisova is the first to the ball he knocks it forwards to hand over possession.
1607171625
28 mins: Georgia 10-19 Fiji
It's another Georgian penalty, which comes from a scrum infringement following a loose pass from Volavola. Suddenly Fiji are right under the pump and Georgia break away from the 5m scrum … but Fiji get the turnover penalty! Tuisova gets into the jackal position over No 8 Jalaghonia and it allows the Pacific Islanders to clear the danger.
The rain may be falling but this is cracking rugby from both sides so far.
1607171440
23 mins: Georgia 10-19 Fiji
There's the forward dominances that we expected from Los Lelos! They quickly set up the attacking platform from the lineout, and replacement prop Giorgi Melikidze crashes over to score Georgia's first of the match! The conversion is successful and they're right back into this!
1607171240
22 mins: Georgia 3-19 Fiji
Georgia are back on the frontfoot as a penalty from the restart due to Tuisova coming in at the side allows them to kick to the corner. Two more penalties come quickly that results in a warning from referee Mike Adamson.
1607171081
18 mins: Georgia 3-19 Fiji
That was certainly the easiest of the bunch so far. Fiji are the first to loose ball as Georgia fail to deal with a low grubber kick, and with the defence at sixes and sevens they have men on either side to attack. After a one-out carry, Volavola brings play right and has Botia wrapping round outside him, and the centre selflessly gives a miss pass out to Josua Tuisova to send the hulking winger over for the simplest of finishes. Volavola does superbly well to add the touchline conversion and the lead is out to 16 already.