To put today's bond yield rise into context, here is the year so far for the Italian 10-year yield.
While it's a notable increase in the yield (meaning prices have dropped as demand falls), it does not yet rival the market turmoil as the scale of the crisis in Europe became clear in mid-March. Italy has been the hardest hit by the coronavirus in Europe.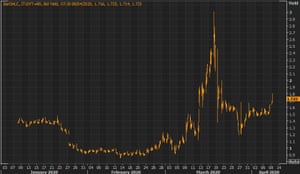 Italian bond yields rose on Wednesday morning. Photograph: Refinitiv
Nevertheless, the European Central Bank will be watching closely - particularly after Christine Lagarde's previous missteps.