The US network CBS is currently airing a two-hour special in which Oprah Winfrey interviews Prince Harry and Meghan Markle.
The interview gives viewers a first look inside the lives of the Duke and Duchess of Sussex since stepping down from their roles as senior members of the royal family. A friend of the couple says that the special draws a line under a chapter of their lives and they want to "move on".
Prince William is reportedly "livid" at the prospect of his brother and sister-in-law's tell-all interview with reports saying it could be the "final nail" in the brothers' relationship. Ahead of its broadcast tonight in the US, Harry has spoken with the Queen and been in regular contact with Prince Charles.
Earlier on Sunday, the Queen spoke of "selfless dedication to duty" in her Commonwealth message. Senior royals including the Prince of Wales and the Duke and Duchess of Cambridge appeared together on the BBC One show to mark Commonwealth Day.
The Queen's words echoed phrasing used by both Buckingham Palace and the Duke and Duchess of Sussex in a tense exchange of public statements last month.
For everything from how to watch the interview, to what Harry and Meghan have told Winfrey so far, follow along with our liveblog below.
1615165518
The TV special has begun
Oprah greets Meghan acknowledging that they are complying with social distancing and congratulates her on her pregnancy.
We will apparently find out later on the sex of the child she is expecting.
Both state that Meghan has not been provided questions and is not being paid.
1615164279
Harry and Meghan's California home
Although it was thought that Harry and Meghan might settle in Canada after they left the UK, the couple instead chose California.
Harriet Sinclair reports.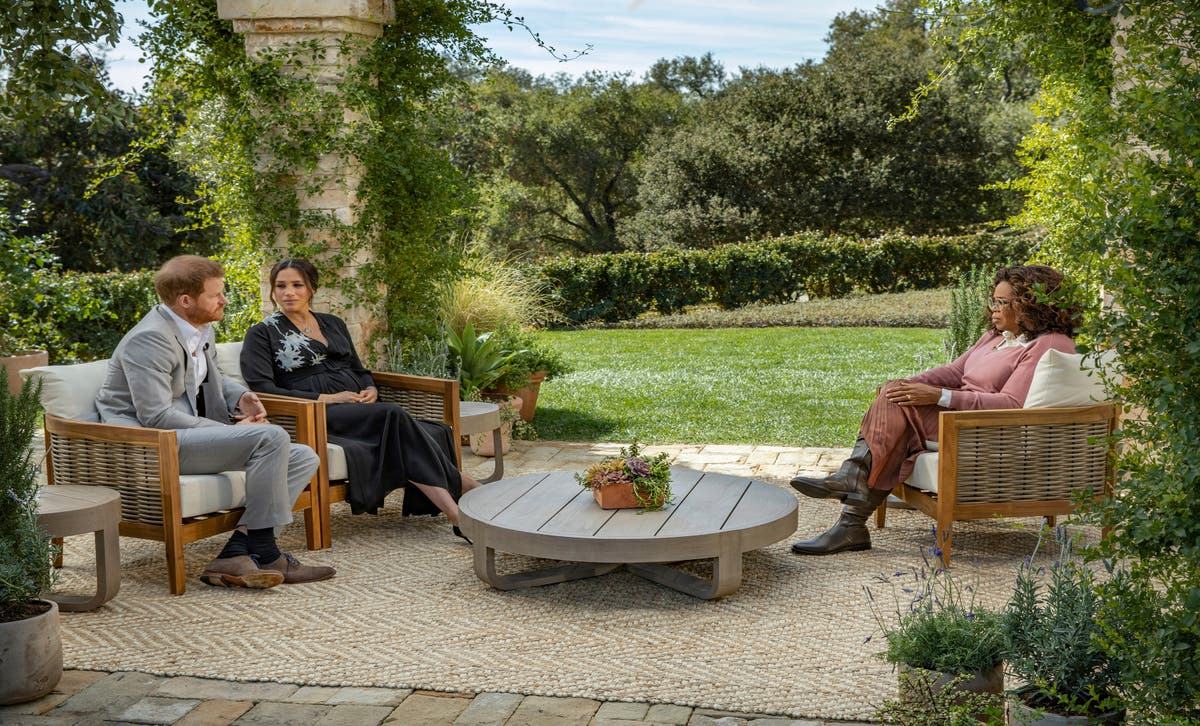 The couple has given a tell-all interview to Oprah Winfrey, filmed at the home of a friend
1615164032
Why Oprah?
This evening's interview is reportedly the result of a three-year discussion between Oprah and Meghan. Ms Winfrey contacted Meghan through CBS, The Times reports, and they spoke on the phone.
Since the wedding, at which Ms Winfrey was a guest, there have been numerous incidents where Oprah has spoken publicly in support of Meghan and Harry.
Winfrey famously attended Meghan's wedding to Prince Harry
1615163060
CBS airs new teaser with Oprah asking Meghan why her son was not made a prince
CBS just aired a teaser clip in which Oprah asked Meghan why her son Archie, a "great-grandson of the Queen" was not made a prince.
Meghan's answer was not included in the clip.
1615162832
Where was the interview recorded?
The was much speculation over the location for the couple's interview with Oprah. The teaser video segments show a verdant garden surrounding the terrace on which Harry and Meghan sit with Ms Winfrey.
People speculated it was filmed at Oprah Winfrey's luxurious house
1615161660
We're now just an hour away from the interview airing on CBS in the US. UK viewers will be able to watch the programme at 8pm on Monday night on ITV.
Teaser trailers for the interview suggest that Harry will discuss his mother, Princess Diana, with Oprah Winfrey.
In one preview clip, released last week, Harry says: "For me I'm just really relieved and happy to be sitting here talking to you with my wife by my side.
"Because I can't imagine what it must have been like for her going through this process by herself all those years ago, because it's been unbelievably tough for the two of us but at least we had each other."
Read more about what we know about the interview from its trailers below.
The full interview will be broadcast on Sunday
1615160447
What can we expect from tonight's interview?
Olivia Petter reviews which topics we can expect to be discussed in tonight's wide-ranging interview between Oprah Winfrey and Harry and Meghan.
The 'wide-ranging' interview will be broadcast on Sunday
1615158752
William 'livid' about Oprah interview
Even if the Duke and Duchess of Sussex want to "move on" and draw a line under a chapter in their lives as reports suggest, they may have a lot of bridgebuilding to do with their immediate family.
Prince William is "livid" at Meghan and Harry's Oprah interview which could be the "final nail" in the brothers' relationship, reports say.
The royal family is braced for the eagerly-anticipated interview on Sunday night, which could be "very damaging", according to Vanity Fair.
Queen will be briefed by aide on interview's contents on Monday morning
1615158392
Harry and Meghan want to 'move on' after interview
Harry and Meghan consider tonight's broadcast of their interview with Oprah Winfrey the "last word" on their rift with the royal family. They "needed to have their say" and want to "move on".
A friend of the couple told The Daily Telegraph: "It was something they felt they wanted and needed to do but now they have done it, they feel a line has been drawn under that chapter of their lives and they want to move on."
The paper also reports that Harry intends to heal the rift with his brother Prince William when they reunite this summer in London to unveil a statue dedicated to their mother, the late Diana, Princess of Wales.
The statue was commissioned to mark the twentieth anniversary of Princess Diana's death. It will be installed in the Sunken Garden of Kensington Palace on 1 July, which would have been her 60th birthday.
1615158053
On March 31, it will have been a year since Harry and Meghan stepped back as royals.
The couple are expected to talk about their lives after leaving the royal family, and their hopes for the future, in tonight's interview.
Need a refresher on what the Duke and Duchess of Sussex have done since stepping back from royal life? Read more below.
Duke and Duchess of Sussex using newfound freedom to advocate for change