An unexpected bit of Golden Globes trivia is that the annual ceremony barely had hosts before 2010. Then Ricky Gervais steamrolled in, bending the temperature of the show's tone and humour to his will. It's been shaped in his image ever since.
That's not to say he's been the funniest host in recent years. He was better than the bizarrely charmless pairing of Sandra Oh and Andy Samberg, but who wouldn't be? Likewise innocuous US talk show stars such as Seth Meyers and Jimmy Fallon. He's not as good as Tina Fey and Amy Poehler, though, who hit the sweet spot between bitter acidity and joyful froth that Gervais has always missed. Blessedly, they'll be returning to host this year's virtual Globes on 28 February.
To celebrate the show's impending return, we've collated 15 of the funniest gags and zingers from Globes hosts of the past 11 ceremonies – from withering jokes at James Cameron's expense, to remarks about Scientology that will have probably gone through a team of lawyers in advance of being spoken aloud.
Ricky Gervais on the maligned Johnny Depp/Angelina Jolie caper The Tourist (2011)
"It was a big year for 3D movies: Toy Story, Despicable Me, Tron. It seems like everything this year was three-dimensional – except the characters in The Tourist. I feel bad about that joke because I haven't even seen TheTourist... Who has?"
"I'd like to quash this ridiculous rumour going around that the only reason The Tourist was nominated was so the Hollywood Foreign Press could hang out with Johnny Depp and Angelina Jolie. That is rubbish. That is not the only reason. They also accepted bribes."
Ricky Gervais on famous religions (2011)
"Also not nominated: I Love You, Philip Morris. Jim Carey and Ewan McGregor. Two heterosexual actors pretending to be gay. Sort of the complete opposite of some famous Scientologists, then."
Amy Poehler on Zero Dark Thirty's uncertain stance on torture (2013)
"Kathryn Bigelow is nominated tonight. I haven't really been following the controversy over Zero Dark Thirty, but when it comes to torture, I trust the lady who spent three years married to James Cameron."
Tina Fey and Amy Poehler on assorted stars (2013)
Fey: "Quentin Tarantino is here, the star of all my sexual nightmares."
Poehler: "Meryl Streep is not here tonight. She has the flu – but I hear she's amazing in it."
Tina Fey on Gravity (2013)
"It's the story of how George Clooney would rather float away into space and die than spend one more minute with a woman his own age."
Tina Fey on Matthew McConaughey (2014)
"For his role in Dallas Buyers Club, he lost 45 pounds, or what actresses call 'being in a movie'."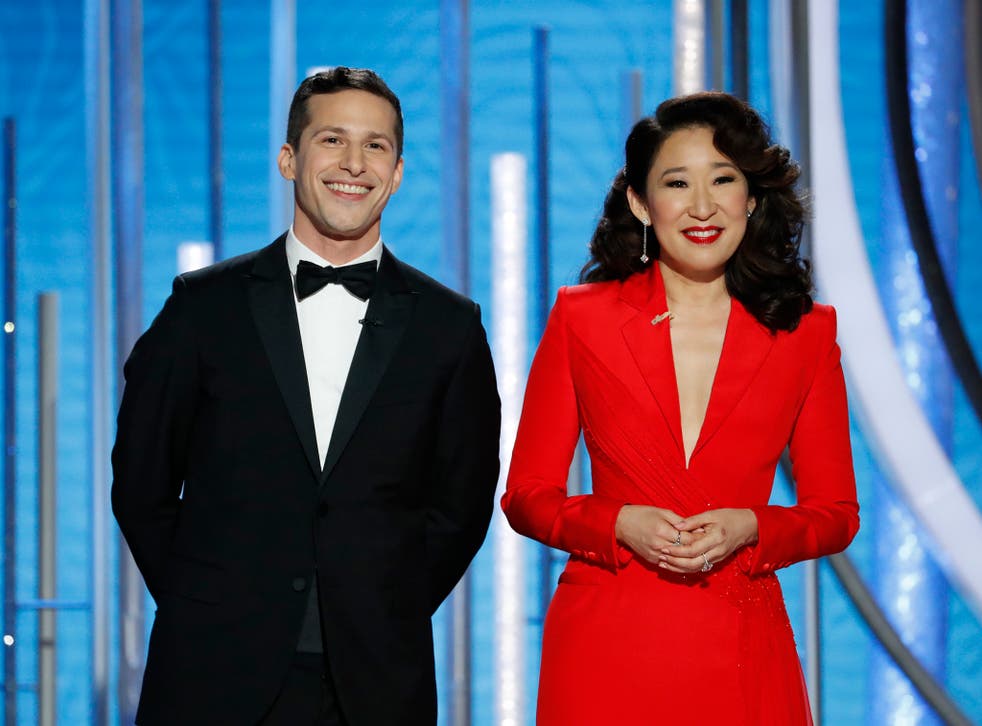 Andy Samberg and Sandra Oh host the Globes in 2019
(Paul Drinkwater/NBC/Getty)
Amy Poehler on 12 Years a Slave (2014)
"One of the most nominated films this year is 12 Years a Slave. I loved 12 Years a Slave, and I can honestly say that after seeing that film, I will never look at slavery the same way again."
Tina Fey on Leonardo DiCaprio (2014)
"And now, like a supermodel's vagina, let's all give a warm welcome to Leonardo DiCaprio."
Tina Fey on George Clooney (2015)
"George Clooney married Amal Almuddin this year. Amal is a human rights lawyer who worked on the Enron case, was an adviser to Kofi Annan regarding Syria, and was selected for a three-person UN commission investigating rules of war violations in the Gaza Strip. So tonight, her husband is getting a lifetime achievement award."
Posters in LA promote this weekend's Golden Globes awards, which will be hosted once again by Tina Fey and Amy Poehler
(Frazer Harrison/Getty Images)
Tina Fey on the presence of Joaquin Phoenix (2015)
"Joaquin Phoenix is nominated for Inherent Vice, but obviously he isn't here tonight because he has said publicly that – quote – 'Award shows are total and utter bull-' Oh! Hey, Joaquin!"
Ricky Gervais on having to introduce Mel Gibson, whom he mocked in 2010 (2016)
"Listen, I'm sure it's embarrassing for both of us. I blame NBC for this terrible situation. Mel blames… we know who Mel blames. I still feel a bit bad for it. Mel's forgotten all about it apparently, that's what drinking does. I want to say something nice about Mel before he comes out. So: I'd rather have a drink with him in his hotel room tonight than with Bill Cosby."
Seth Meyers on The Shape of Water (2018)
"When I first heard about a film where a woman falls in love with a hideous monster, I thought it was a Woody Allen movie."
Sandra Oh on the weepie drama series This Is Us (2019)
"Here is the cast of This Is Us, so break out the tissues because you're going to want to masturbate to all of them."
Ricky Gervais on representation at the Globes (2020)
"Many talented people of colour were snubbed in major categories. Unfortunately, there's nothing we can do about that because the Hollywood Foreign Press are all very, very racist."