Zoom, the booming video conferencing firm, reported its first-quarter results last night. My colleague Mark Sweney has taken a closer look.
Zoom may be booming as the global coronavirus lockdown moves work and social life to cyberspace but deep-pocketed rivals including Microsoft, Google and Facebook are taking aim as video conferencing becomes a staple of daily life.
On Tuesday, Zoom, which has been catapulted from a relatively unknown video service to a household name during the coronavirus pandemic, reported first-quarter results that were impressive on almost every measure.
Revenue surged by 169% to $328m (£261m) in the three months to the end of April, prompting the company to double revenue guidance for this year. The number of people attending meetings and gatherings on any one day peaked at 300 million in April. In December it was 10 million a day.
One analyst called Zoom's results "one of, if not the greatest quarter in enterprise software history" and its share price enjoyed an initial bounce. However, Zoom's stock dropped in after-hours trading on Tuesday as investors and analysts began to worry about its ability to cope with competitors aiming to muscle in on the video-conferencing boom.
In March, Microsoft, an aggressive competitor against Zoom for paying business customers with Microsoft Teams, announced it is to launch a version of its video-conferencing service for consumers.
The following month, Facebook, the world's biggest social networking site, introduced a group video-calling feature called Messenger Rooms that prompted a dip in Zoom's share price. In April, Google announced it was to make Meet, another Zoom competitor in the business video market, available for consumer use.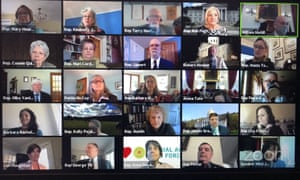 Members of the Vermont House of Representatives convene in a Zoom video conference for its first full parliamentary online session in Montpelier, Vt, on 23 April. Photograph: Wilson Ring/AP