Erin McCormick reports from Albany, California:
Even in suburban enclaves, where demonstrations rarely happen, families flooded out of their homes to join the protest in honor of George Floyd.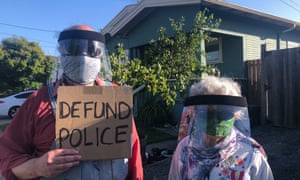 In Albany, families flooded out of their homes to join the protests. Photograph: Erin McCormick/THE GUARDIAN
In Albany, a tiny, historically-white, Bay Area community, hundreds of parents and children lined the corners in front of the local gas stations, waving signs. Passing cars honked at the banners reading "End White Silence," and "Black Lives Matter."
As darkness approached, families headed home, dragging wagons full of sleepy children.

Local seniors Henry Norr and Jean Tepperman had jury-rigged full facial shields on top of several layers of masks. They waved a sign reading "Defund Police."

The two Berkeley residents said they had been doing whatever they could to register their protest for days.

"We were out in Oakland last night too," said Tepperman. "Are you asking, because we're senior citizens?"

However the Berkeley resident said they hadn't lasted past the Oakland curfew Wednesday, when that protest broke out into a dance party.
"That was after we left," she said. "We had to go home for bed."