In Los Angeles, thousands took to the streets. Mayor Eric Garcetti took a knee with protestors, even as crowds chanted, "defund the police".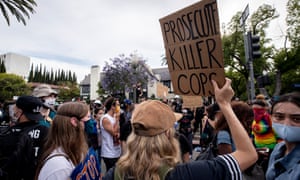 A protester holds a placard reading 'Prosecute Killer Cops' in front of Los Angeles mayor Eric Garcetti's house. Photograph: Étienne Laurent/EPA
Los Angeles County was under a sweeping curfew, and activist organizing demonstrations today kept plans quiet to avoid tipping off police.
LAPD Chief Michel Moore said at a news conference yesterday looters over the weekend were "capitalizing" on the death of George Floyd."We didn't have protests last night — we had criminal acts," he said, "His death is on their hands as much as it is those officers."
Moore apologized minutes later, saying he "misspoke".
Protestors today chanted, "Fire Michel Moore! Fire Michel Moore!"