Google is honouring Frank Bailey, the man widely considered to have been the first black firefighter in London and potentially the first full-time black firefighter in England, with a Doodle on what would have been his 95th birthday.
Bailey passed away in 2016 at the age of 90, but his legacy is far from forgotten, with today's Doodle, illustrated by West Yorkshire-based artist Nicole Miles, portraying the Guyanese-British firefighter in full uniform.
Born on this day in 1925 in British Guiana, now Guyana, Mr Bailey dedicated much of his life to the fight for equality, breaking several barriers along the way.
After attending local schools, Mr Bailey took a job on a German trade ship, which took him to New York.
After finding work in a hospital, starting out initially as a porter, before eventually becoming a medical assistant, Mr Bailey spoke out against segregation at his workplace, leading a walkout in opposition to segregated dining facilities.
In 1953, in his late 20s, Mr Bailey moved to London, where he soon discovered that black residents were not being hired to work with the city's fire service.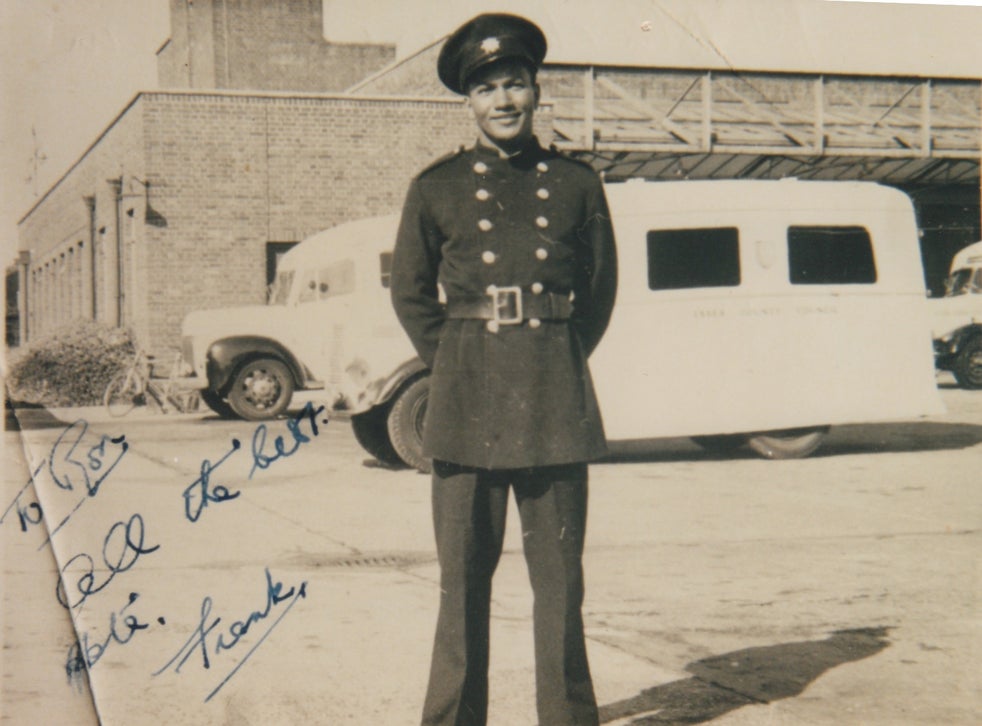 (Google/Bailey family)
Determined to break that barrier, Bailey applied to join the West Ham Fire Brigade, where he is believed to have made history as London's first black firefighter after being accepted into the service.
According to the Black History Month website, Bailey is also believed to have been the first full-time black firefighter in all of England.
Given his dedication to fighting for workers' rights, Bailey eventually also became a union branch representative – a role he was forced to leave after being repeatedly passed over for a promotion.
A Google Doodle honours Frank Bailey on what would have been his 95th birthday on 26 November, 2020.
(Google)
Bailey eventually decided to leave the post, making history again as one of the first black social workers in London.
According to Google's biography, he became the first black legal advisor for black young people at Marylebone Magistrates Court.
He would go on to end his working life as a guardian ad litem, representing children in legal proceedings, including adoption and divorce proceedings.
In a statement shared with Google, Bailey's daughter, Alexis Bailey, honoured her father's legacy, writing: "I'm very proud of my dad. He spent his whole life fighting against injustice and he never gave up. He taught me to challenge things I believe are wrong and stand up for myself and others, even when it scares me."
Alexis said her father loved to quote a line from political activist Thomas Paine: "The world is my country, all mankind are my brethren, and to do good is my religion."
"I didn't always appreciate it when I was growing up, but my dad showed me that hard work pays off and you can make a difference if you're passionate and relentless," she said. "The issues he came up against – racism, discrimination, and inequality – are still relevant today and I'm grateful that he inspired me to be brave and fight for what I believe in."
"Years after he left the fire service, right up until he died, he carried on encouraging young, black firefighters to get involved in politics," she added.
"He was full of stories about using solidarity and determination to bring about change in his many different roles – as a medical assistant at a hospital in New York, and in London as a trade unionist, a firefighter, a psychiatric social worker, a warden at a social club for ex-soldiers, and an advocate for young black men appearing in court," Alexis wrote.
"His enthusiasm for equality sometimes got him into trouble," she said. However, "he never shied away from a challenge or a difficult conversation and had many angry showdowns. He put energy and sincerity into everything he did and people respected that."
In a statement, Google thanked Bailey for his dedication to fighting for equality.
"Happy Birthday, Frank Bailey. Your actions continue to encourage others to never give up in the fight for equality for all," the company said.