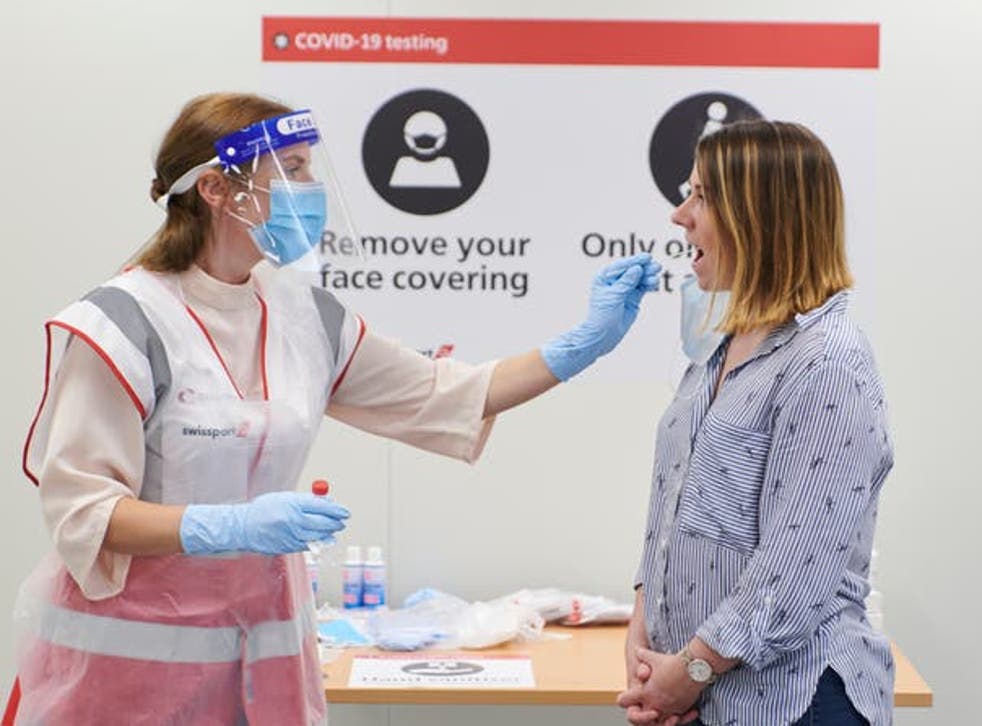 People with Covid could be paid £500
(PA)
Boris Johnson has hinted that the government may have to introduce more border restrictions to stop new variants of Covid-19 from spreading in the UK.
Speaking at a Downing Street press conference on Friday afternoon, the prime minister warned "we may have to go further".
It comes amid warnings that a new variant of the virus from South Africa could be more resistant to existing vaccines and also more virulent.
Mr Johnson said briefing the most common variant spreading in the UK appears to be more deadly than the original virus.
There is evidence that it "may be associated with a higher degree of mortality" among those infected, he told the briefing.
It is believed that scientists have found 1.3-fold increased risk of death compared with the old variant of coronavirus.
Sir Patrick Vallance, the UK's chief scientific adviser, said: "Instead of ten in every 1,000 people in their 60s with Covid passing away, 13 or 14 people "might be expected to die."
1611301493
Hello and welcome to The Independent's rolling coverage of the coronavirus crisis.
1611301798
Government considering closing borders to all foreign travellers to prevent spread of new Covid variants, minister says
Boris Johnson's government is considering the possibility of closing the borders to travellers to prevent new strains of Covid being spread in the UK, cabinet minister George Eustice has said.
Pressed on Sky News whether he would like to see the full closure of borders to foreign visitors, the environment secretary told Sky News: "We always keep these things under review. It's been considered."
Ashley Cowburn reports here:
Boris Johnson's government is considering the possibility of closing the borders to travellers to prevent new strains of Covid being spread in the UK, cabinet minister George Eustice has said.
1611302282
Sage member lends support for payments for self-isolation
A Sage expert has backed payments to people self-isolating, saying that it was important the government "actually looks at making the rules better" instead of just "ramping them up".
Dr Mike Tildesley, a member of Sage subgroup the Scientific Pandemic Influenza Group on Modelling (Spi-M), told Times Radio: "One of the key things actually that we need to think about is not necessarily just ramping up the rules if things don't seem to be working but actually looking at making the rules better that we have in place, and one of the key problems actually is people isolating.
"Some kind of support for people so they can see through their isolation is actually pretty important, so that we really do get on top of these numbers."
1611302567
Sage member says there are 'early signs' infections are dropping
Dr Tildesley also said there were "early signs" that coronavirus cases were falling.
The Sage member said there were signs the "lockdown is possibly working in terms of taking the R number below 1".
He told Times Radio: "The key thing there actually is we don't just want to take the number below 1 we need to take it quite a bit below 1 because of course the further below 1 we go the faster those curves are going to come down and the sooner, hopefully, we're going to ease out of restrictions."
1611303682
Festival season 'still possible' with government intervention, festival chief says
A festival season is "still possible" this year despite the axing of Glastonbury, the chief executive of the Association of Independent Festivals has said, calling on the government to support smaller organisers.
Paul Reed told BBC Breakfast that if the government ensures organisers of music events can access insurance there is hope that smaller festivals can still go ahead, explaining that "Glastonbury is a different beast" due to its size and complexity.
On Thursday, the Glastonbury organisers announced that the festival has been cancelled for the second year in a row due to the pandemic.
Mr Reed said that for most festivals "the cut-off point is more likely the end of March".
He said we are at a "serious point in the pandemic and festivals only want to return when it is safe to do so".
"This is devastating news about Glastonbury, not least for the amount of staff and freelancers and companies involved in delivering the event, but a festival season is still possible for this year if government act now on insurance."
He added that festivals are currently struggling to get insurance for coronavirus-related cancellations, saying the industry "needs government to intervene".
1611305121
Met police officer dies after testing positive for Covid
A serving Metropolitan Police officer has died after testing positive for Covid-19, the force has announced. He is understood to be the first serving Met officer to have died after being diagnosed with the coronavirus since the start of the pandemic.
Pc Michael Warren, 37, joined the Met in 2005 and had served as a Territorial Support Group (TSG) officer for the last four years.
Pc Warren had been shielding at home as he was classed as "vulnerable". He had been working remotely to help his team, the Met said.
He died on Tuesday morning after testing positive for Covid-19 earlier this week, leaving his parents Pauline and Alan, his partner Vicky and his daughter Eden, eight, and son Joseph, five.
1611306193
PM to hold press briefing at 5pm
Boris Johnson will hold a Downing Street press conference at 5pm, No 10 has said.
1611306879
Germany's coronavirus death toll exceeds 50,000
Germany's coronavirus death toll has passed 50,000, with fatalities increasing rapidly in recent weeks even as infection figures are finally falling.
The country's disease control centre, the Robert Koch Institute, said on Friday that another 859 deaths were reported over the past 24 hours, bringing the total to 50,642.
Germany had a comparatively small number of deaths in the pandemic's first phase and was able to lift many restrictions quickly.
However, infection levels have jumped in the autumn and winter months, with health authorities reporting hundreds of deaths – sometimes more than 1,000 – daily in the country of 83 million people recently. Germany hit the 40,000 mark on 10 January.
1611307786
Less than one in five with symptoms isolating for 10 days, government adviser says
Less than one in five people (18 per cent) with coronavirus symptoms are self-isolating for the full 10 days as instructed, a government adviser has suggested, adding that a £500 payment will not be enough for some households.
Professor Susan Michie, of the Scientific Pandemic Insights Group on Behaviours, told BBC Radio 4's Today programme: "There will be people, for example single earners in a household looking after a family where £500 over 10 days, £50 a day, is not enough to pay the rent, to pay all the bills and put food on the table.
"There is a particular group of people who would need more from that £500 but at least the government is recognising this is a key weakness in the whole pandemic strategy. If you have 82 per cent of people with symptoms wandering around the community it is very, very difficult to bring this level down."
Prof Michie's remarks follow findings from UCL's Covid-19 Social Study, which showed that 38 per cent of respondents said they self-isolated for less than 10 days after developing symptoms.
She added: "I think the question is, how does one get enough funds to compensate people for lost wages, especially for people in the gig economy and (the) precarious economy quickly and without complicated forms?"
1611308817
One in four hesitant to share contacts due to 'lack of trust' in test and trace system, adviser says
Some people are unwilling to provide their contacts for test and trace because of a "lack of trust" in the system, according to Professor Susan Michie, a member of the Government's Scientific Pandemic Insights Group on Behaviours.
She told BBC Radio 4's Today programme: "Only 76 per cent of people intend to share their contacts because I think there is a lack of trust in the system." She attributed this to test and trace relying on call centre employees rather than "local trusted public health infrastructure that people are familiar with".
Prof Michie also stressed the role of income on disparities in testing, saying: "Another problem is this £10,000 fine which we know is now deterring lower-income people from coming forward to be tested.
"In Liverpool when they did the mass testing evaluation, the most deprived communities were 20 times as likely to be infectious but 20 times less likely to get tested and in the most deprived areas it is only 4 per cent of people coming forward to be tested. This is a massive problem that urgently needs to be addressed."