The heavily mutated Omicron variant has propelled a sharp rise in Covid cases in South Africa as health experts describe the degree of increase as "worrying".
The variant now accounts for 74% of all the virus genomes sequenced in the nation last month after it was first found in a sample taken on 8 November in Gauteng, South Africa's most populous province.
Covid cases have risen from a weekly average of around 300 new cases per day to 1,000 last week and most recently to 3,500. A total of 8,561 new cases were reported on Wednesday alone - double the number of new cases recorded the day before, according to data from the National Institute for Communicable Diseases (NICD).
Dr Michelle Groome, head of the NICD, said the increase was "exponential" adding that the "rapidly increasing number of new daily cases" was "fuelled by the variant" known as Omicron, Agence France-Presse reports.
South Africa's National Institute for Communicable Diseases (NICD) said early epidemiological data suggested Omicron was able to evade some immunity, but existing vaccines should still protect against severe disease and death.
World Health Organization (WHO) epidemiologist Maria van Kerkhove told a briefing that data on how contagious Omicron was should be available "within days."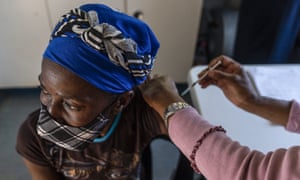 A woman is vaccinated against Covid-19 at the Lenasia South Hospital, near Johannesburg on 1 December as South Africa records a surge in cases. Photograph: Shiraaz Mohamed/AP