The Moscow city government has ordered elderly people to stay at home for the next four months as Covid cases and deaths surge in Russia.
Businesses in the capital will also be required to have at least 30% of staff working from home, reports Reuters.
The new rules, which will take effect from Monday, come as Russia reported 1,1015 coronavirus deaths on Tuesday - a single day record - and 33,740 new Covid infections.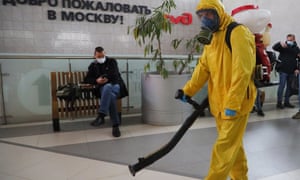 A federal employee disinfecting Leningradsky railway station in Moscow on Tuesday. Photograph: Alexander Zemlianichenko Jr/AP