Related video: Boris Johnson warns next winter could be even worse amid 'highly likely Covid surge'
Next winter could see even "greater suffering" than that endured by the public this year if Covid-19 variants prove resistant to vaccines, Boris Johnson warned today.
Addressing the Commons earlier, the prime minister said there was a "high likelihood" of a surge in Covid-19 cases this winter, as he announced plans to launch a public inquiry into the government's handling of the pandemic in Spring 2022.
He argued that next spring was the most appropriate time for the launch due to the threat of a winter surge, but campaigners said it would be "simply too late".
Jo Goodman, co-founder of a group for families bereaved by Covid-19, said it was a "huge relief" to hear the prime minister commit to a statutory inquiry – but that the probe cannot wait because lives are at stake and health experts are warning of a third wave later this year.
Labour leader Keir Starmer welcomed the inquiry announcement, as well as Mr Johnson's promise to set up a UK Commission for the bereaved, health workers and others who made sacrifices during the pandemic. But he queried the prime minister's timing, saying that the inquiry should begin "as soon as possible".
Meanwhile, an independent panel of experts who reviewed the World Health Organisation's response to the coronavirus crisis has concluded it could have been prevented from "escalating into the devastating pandemic it became".
In a report, the panel said the combination of poor strategic choices, unwillingness to tackle inequalities and lack of an urgent, co-ordinated, worldwide response created a "toxic cocktail which allowed the pandemic to turn into a catastrophic human crisis".
1620848943
Florence Nightingale would 'roar' at 1% pay rise, says Helena Bonham Carter
Florence Nightingale would be "roaring" about the 1 per cent pay rise offer for health staff, her relative Helena Bonham Carter has said.
The Harry Potter actor spoke to reporters after a service to honour nurses held at Westminster Abbey on the birthday of the healthcare pioneer, which was attended by Boris Johnson and Matt Hancock.
Ms Bonham Carter, whose great-great-grandmother was Nightingale's aunt, said nurses have "always been underappreciated".
Asked about the 1 per cent pay rise on offer to NHS staff, she said: "I'd almost certainly say that my relative, Florence Nightingale, she'd be roaring today.
"I shouldn't really put words into her mouth but I think she would ... certainly challenge this decision and say that this is really a pitiful reflection of what they've done for everyone this year.
"Think of it, every single Thursday everyone clapped. That wasn't empty gratitude. I think everybody in this country wants to give them, even if they tax us more."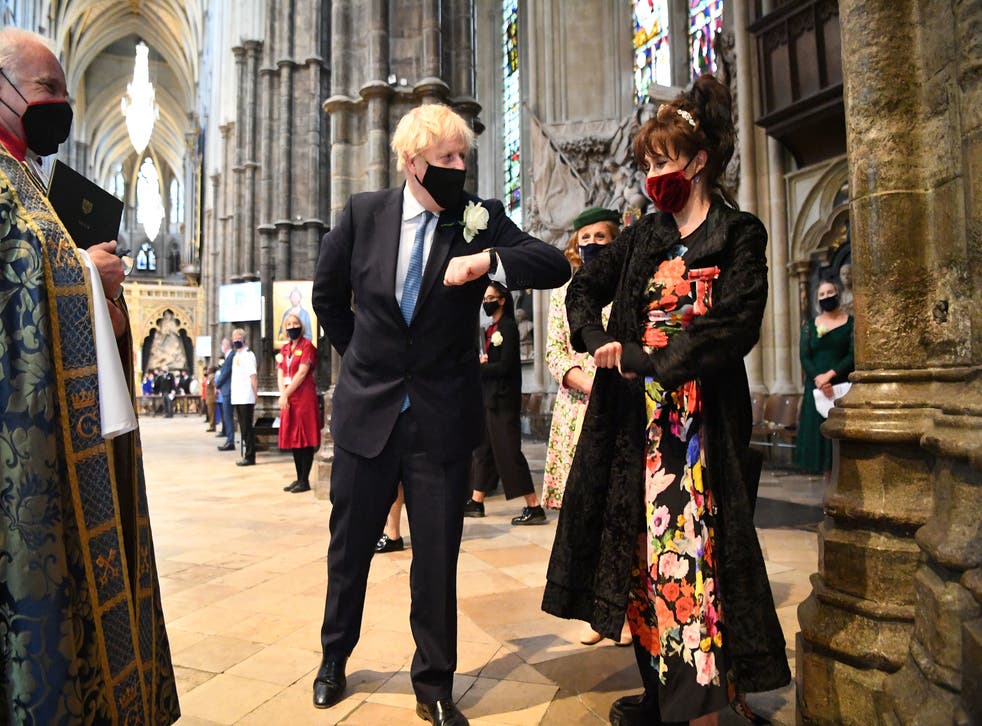 Bonham Carter bumps elbows with Boris Johnson at Westminster Abbey's annual service for the Florence Nightingale Foundation
(PA)
1620847918
Experience of bereaved families 'key' to Covid inquiry, says campaigner
The experiences of bereaved families will be key to the success of the public inquiry into the government's handling of the coronavirus pandemic, said campaigner Rivika Gottleib, whose father Michael died in the first wave.
Speaking in front of the National Coronavirus Memorial in London, Ms Gottleib told the PA news agency: "I think the role of bereaved families is absolutely key.
"I think our experiences are essential in terms of the lessons that need to be learned, and every bereaved family member that I have spoken to and throughout our campaign, we have all had different but similar experiences."
Ms Gottleib said campaigners have been calling for an inquiry since last May in the hope that the worst excesses of the winter case spike could have been avoided.
"I firmly believe that tens of thousands of lives could have been saved had those lessons been learned last summer. The idea of waiting yet another year for a public inquiry to even begin terrifies me, to be honest."
1620847203
Holiday firm stops selling trips abroad due to 'traffic light' system
A UK holiday firm has temporarily stopped selling trips abroad for the summer in response to the government's "traffic light" system for quarantine-free travel.
On the Beach's chief executive Simon Cooper said the system provides no clarity beyond a three-week window about which destinations people can travel to without isolating.
He said on Wednesday that his firm had "no interest in selling holidays that are unlikely to happen" and would suspend sales for trips in June, July and August.
Mr Cooper said: "We don't know enough yet about how the traffic light system will work in practice, and it doesn't currently give any certainty or clarity beyond a three-week window.
"In the coming weeks and months - until vaccination programmes across Europe and beyond are further along in their rollout - it is very likely that we will see regular fluctuations in destinations' traffic light classifications, and so there is likelihood of disruption or even cancellations for the many customers who want to book more than three weeks in advance."
Mr Cooper said the temporary suspension of sales will be reviewed in line with the next government announcement.
1620845943
US school districts ditching masks at growing rate
US school districts are ditching mask requirements for pupils in increasing numbers, despite official advice.
School leaders in states from Alabama to Wyoming have taken the decision to make face coverings optional, with Arkansas passing a law that will make it illegal for educational facilities, or any government entity, to require masks by the end of Summer.
One district chair in Florida who favoured mask-wearing was met with cries of "Communist!" and "This is Santa Rosa County, America, not China!" even after relenting to opposition and removing the mask requirement.
The US Centres for Disease Control and Prevention guidance states schools "should prioritize universal and correct use of masks and physical distancing."
1620844623
Surge testing deployed in Redditch after South Africa variant found
The government has urged everyone living or working in Redditch to take a Covid PCR test after multiple cases of the South Africa variant were confirmed in the area.
People in the Worcestershire town have been asked to take the test when invited even if they are showing no symptoms.
The Department for Health and Social Care also advises people in the area to continue using twice-weekly rapid testing alongside the PCR test as part of surge testing.
1620842283
Government promises 'access to justice' for landlords
The government is to cut the notice period landlords have to give tenants before evicting them, rolling back some of the protections it introduced during the Covid-19 pandemic, reports Policy Correspondent Jon Stone.
Councils and tenants unions have warned of a possible surge in homelessness over the summer, with a ban on bailiff-enforced evictions also set to end this month.
Ministers said the changes, which will see a gradual return to the previous weaker tenants' rights, would give "landlords to access justice".
Councils warn homelessness set to increase over summer as protections phase-out begins
1620841203
India's economic outlook 'highly fragile' amid Covid crisis, warns UN
India's economic outlook for 2021 is "highly fragile" as the country suffers as the "new hotbed of the pandemic", a report from the Unied Nations finds.
"India has been particularly affected by a brutal second wave, which is overwhelming the public health system in large parts of the country," the UN's World Economic Situation and Prospects report said on Tuesday.
Next year, however, the country is forecast to overtake China as the fastest growing economy on earth, with a projected rise of 10.1 per cent of GDP.
Bounceback in 2022 forecast to see India become fastest growing economy in the world
1620840183
Mucormycosis: What you need to know about deadly black fungus seen in Covid-19 patients in India
Hospitals in India are reporting a rise in the number of Covid patients suffering from a secondary black fungus infection, with over 200 such cases reported across the country, writes Vishwam Sankaran.
The fungal infection called mucormycosis is caused by a group of moulds called "mucormycetes" that are present in the air and cause complications in those with acute illnesses such as severe Covid, or in people with compromised immunity.
According to doctors, once inhaled the infection in such patients could spread into the sinus cavities, lungs, and chest cavities.
Pre-existing comorbidities like diabetes and high dependency on steroids linked to fungal infection
1620838863
People aged 38 and 39 to be eligible for Covid vaccination from Thursday
People aged 38 and 39 can book coronavirus vaccines in England from Thursday, as part of the latest widening of the UK's vaccination rollout.
The AstraZeneca jab will not be given to this age group due to the potential link between the vaccine and very rare blood clots, which are more likely to occur in younger people.
More on this from Rory Sullivan:
More than 45 million vaccine doses administered in the UK so far
1620837854
Boris Johnson at Florence Nightingale nurse tribute service
Boris Johnson has joined actress Helena Bonham Carter at a service to pay tribute to the efforts of nurses throughout the coronavirus pandemic.
The prime minister was among a reduced congregation of 60 people at Westminster Abbey in London.
The service, which takes place annually to mark Florence Nightingale's birthday on May 12 - now known as International Nurses' Day - is this year recognising the contribution and sacrifice of nurses and midwives since the outbreak of Covid-19 in the UK.
Health Secretary Matt Hancock and shadow health secretary Jonathan Ashworth were also in attendance, alongside Ruth May, chief nursing officer for England, and outgoing NHS chief executive Sir Simon Stevens.
The Crown star Bonham Carter, whose great-great-grandmother was Nightingale's aunt, has hailed nurses as "heroes", particularly for their work in the past year.
Westminster Abbey's annual service for the Florence Nightingale Foundation marks nurses' contribution to the community
(PA)
Subscribe to Independent Premium to bookmark this article
Want to bookmark your favourite articles and stories to read or reference later? Start your Independent Premium subscription today.