Joe Biden, the Democrat candidate in the forthcoming US presidential election, has made his first in-person public appearance in more than two months to lay a wreath for the country's war dead.
The 77-year-old, who has not made a campaign appearance outside his Delaware home since quarantining himself due to the coronavirus pandemic 10 weeks ago, visited a nearby veteran's memorial to mark the Memorial Day holiday.
"It feels good to be out of my house," Biden told reporters, his speech slightly muffled by the mask, Reuters reported. Maintaining his distance, he saluted about a dozen veterans and other onlookers standing a few yards away.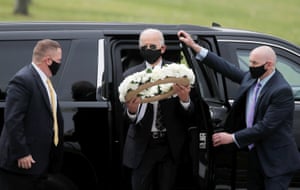 Joe Biden arrives at War Memorial Plaza, in New Castle, Delaware, on Memorial Day. Photograph: Carlos Barría/Reuters