One of the lesser-known countries added to the UK's new quarantine list is the Caribbean island of Aruba.
Journalists on morning television in the UK appeared slightly confused about, well, anything to do with the country as they tried to explain the new restrictions for British travellers.
So here's a handy fact-sheet: The first thing to know is that Aruba, a tiny island just off the coast of Venezuela, looks like a tropical dreamland.
Lonely Planet describes Aruba (population: 106,000) as "the most touristed island in the southern Caribbean", with miles of dreamy beaches, all-inclusive resorts and a pretty little capital, Oranjestad – whose name gives away its role as a constituent country of the Kingdom of the Netherlands.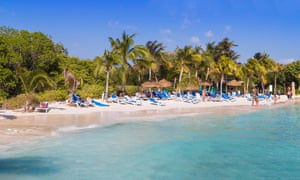 Flamingo beach on Aruba Photograph: Jane Sweeney/Getty Images/AWL Images RM
So why has it been added to the UK's coronavirus blacklist? Well, Aruba's number of new coronavirus cases has risen sharply in recent days - from 31 daily infections a week ago to 87 on Thursday, according to the World Health Organisation. Its total number of cases now stands at 717, with three deaths.
The large rise would appear to coincide with the island reopening its borders to tourists last month, prompting 11,000 sun-seekers to pour onto Aruba. For a country almost wholly reliant on tourism, let us hope those cases will soon fall.