Japanese Foreign Minister Toshimitsu Motegi said on Friday that Japan will give 1 million additional doses of AstraZeneca PLC vaccine each to Taiwan and Vietnam, Reuters reports.
He added that arrangements were also being made to send 1 million doses each of AstraZeneca vaccine to Thailand, Malaysia, Indonesia and the Philippines.
Motegi also said Japan would start to supply 11 million doses in total to regions including Southeast Asia, Southwest Asia and the Pacific islands through the Covax joint venture programme from mid-July.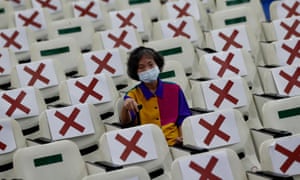 Mass Covid-19 vaccination drive in Taiwan
epaselect epa09272125 A resident rests for 15 minutes after receiving a jab of AstraZeneca vaccine in New Taipei city, Taiwan, 15 June 2021. Photograph: Ritchie B Tongo/EPA
Earlier this month Japan donated 1.24 million doses to Taiwan, followed by the United States giving 2.5 million to the island which China claims as its own territory. Lithuania is also donating 20,000 doses to Taiwan.
Taiwan's foreign ministry expressed its thanks to Japan's government, saying details would be forthcoming.
"It is obvious that the road to fighting the epidemic may be long, but Taiwan is not alone," it said.