Watch live as stars arrive on red carpet for Brit Awards
The 2021 Brit Awards took place tonight (11 May) at the O2 Arena in London, honouring a new generation of stars while also heralding the long-awaited turn of live music in front of a mass audience.
Here are six of the hottest talking points from the British music industry's biggest night:
1. Jack Whitehall's sharp one-liners proved why Brits have kept faith
This year was comedian Jack Whitehall's fourth straight year hosting the Brit Awards, equalling a record held by James Corden who hosted every year from 2011 to 2014. Whitehall was on vintage form this time round, fan-boying over Little Mix but still delivering jokes with edge and panache. He took easy swings at Piers Morgan and Laurence Fox, while the joke that was nearest to the knuckle was probably his introduction for Brits newcomer Olivia Rodrigo: "In the words of Tiger Woods: 'Driver's Licence', take it away…" Will Whitehall be back next time for a record-breaking fifth year in a row? Don't bet against it.
2. Women reign
Picking up her Best British Solo Female Award, Dua Lipa casually observed that when she first won a Brit back in 2018 she'd appealed for more female representation on the Brits stage. Well, this year she got her wish. Little Mix will deservedly receive headlines for becoming the first all-female act to take home Best British Group, but there were also major wins for Arlo Parks in the Breakthrough Artist category and Haim for Best International Group. With Taylor Swift taking home the Global Icon prize and Griff winning Brits Rising Star, that meant eight of the 11 awards given out on the night went to women.
3. A long-awaited return to live music
After 14 months without large-scale gigs in London, the 2021 Brit Awards marked a triumphant return for the very concept of live music. From Coldplay on their barge in the Thames to Dua Lipa's technicolour reimagining of a tube carriage – social distancing be damned! – to Headie One and AJ Tracey's socially-conscious double-header, a night that was initially declared a 'test event' ended up feeling like it might just herald a long-awaited new dawn.
4. One of the most diverse Brit Awards in history
The Brit Awards, like many awards ceremonies, have faced years of criticism over its repeated failures to champion diversity in the music industry. This year, though, it made history more than once by honouring Little Mix and Taylor Swift, as the first female recipients of the Best Group and Global Icon awards, respectively. Arlo Parks received the Breakthrough award after making the Top 10 UK albums chart with her debut, Collapsed in Sunbeams, and Dua Lipa won the biggest award of the night, Best Album, for her rave-receiving 2020 album, Future Nostalgia.
5. The Brits' first ever 'zoom' performance (The Weeknd)
In a first for the Brits, The Weeknd appeared in a special streamed performance of his single "Save Your Tears". Compared to the average Zoom, however, this was a lavish high-production affair, which saw him standing beneath a torrential downpour as he later accepted the award for Best International Male Artist.
6. Championing new artists
Among the many notable moments of this year's Brit Awards was how eager the organisers were to support new music, rather than simply reward the small cluster of familiar, chart-dominating faces. It allowed Rising Star artist Griff a chance to perform alongside the likes of Dua Lipa and The Weeknd. In her speech accepting the Global Icon award, too, Taylor Swift urged hopeful musicians to pave their own paths and to not be put off by the internet's toxic culture of criticism.
The liveblog is now closed
1620748860
Hello and welcome to The Independent's Brit Awards liveblog! I'll be your host, doing my best to match Jack Whitehall's level of comedy. You can make up your own minds as to how much of a challenge that will be...
Tonight's ceremony is, in a way, a landmark, because it is the first largescale live event to take place indoors in the UK since the pandemic began last year.
It will be attended by 4,000 guests, including 2,500 key workers, and include live performances from artists such as Dua Lipa, Arlo Parks, Coldplay, Rag'n'Bone Man and P!nk.
Through the night you'll be able to get the latest news, updates and commentary via this liveblog, as well as video, pictures and gossip from our on-site reporter, Annabel Nugent.
1620750060
I've made my annual predictions (which are usually right, JUST SAYING) of who I think will win, and the artists I think should* win. Take a look: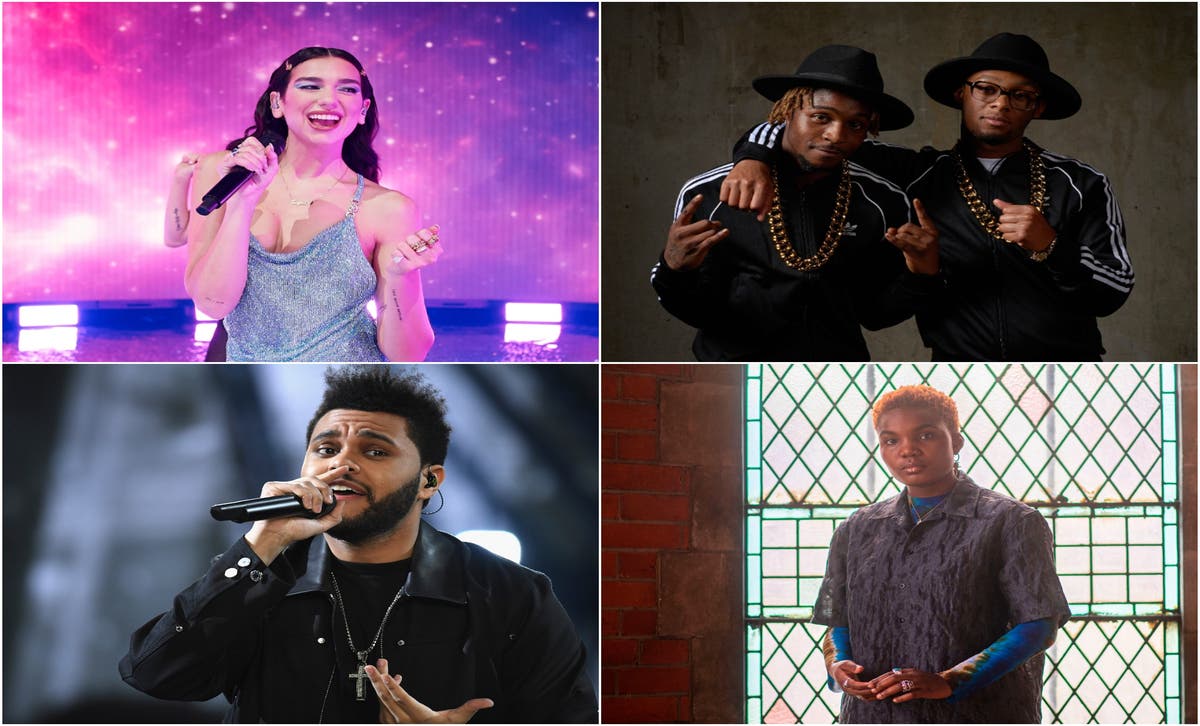 Ceremony will host a live audience of 4,000 people at the O2 Arena in London
1620752460
Not sure who's nominated tonight? Here's a handy list of all the nominated artists in their respective categories...
Nominations mark first time in history that four out of five Album of the Year nominees are women
1620752465
Rag'n'Bone Man says he's "nervous" and "excited" ahead of his performance with P!nk tonight, and think it'll be an emotional one: "I might have to hold a couple of tears tonight."
1620752666
Young T and Bugsey are looking very dapper – they're up for a few awards tonight including British Breakthrough.