Watch live as Joe Biden makes remarks on COVID-19 pandemic
Joe Biden says the US will have enough vaccines for all adults in the country by the end of may after invoking the Defence Production Act to accelerate manufacturing of the newly-approved Johnson & Johnson vaccine.
The president said that all teachers should be vaccinated by the end of March in an effort to get students back in school as a "national imperative".
Meanwhile, governors of Texas and Mississippi announced that mask mandates would end and businesses could begin to fully reopen.
Late in the day, the White House announced the withdrawal of Neera Tanden as its nomination to lead the Office of Management and Budget after it became increasingly clear she didn't have support from the Senate.
FBI director Christopher Wray earlier told a Senate judiciary committee hearing that the attack at the Capitol on 6 January was considered by the FBI as "domestic terrorism".
As Wray was being questioned on security threats at home, US intelligence concluded Russia was behind the poisoning of Alexey Navalny, with sanctions to be imposed against multiple senior government officials.
As several Democrats called on New York governor Andrew Cuomo to resign, the White House defended silence from Joe Biden and Kamala Harris as it emerged the third accuser worked for the Biden-Harris administration.
"I'm speaking on their behalf, that's how they feel, they both feel this is a situation where all of the women coming forward should be treated with dignity and respect and have their voices heard, and that's a representation of their points of view," spokesperson Jen Psaki.
Cuomo has authorised attorney general Letitia James to carry out an investigation into the allegations.
After Biden gave a speech marking Read Across America day that excluded Dr Seuss, the White House said it was important for children of all backgrounds see themselves in the books that they read.
While the president released a joint statement with his "equal" partner, Mexico's president Andrés Manuel López Obrador, signalling their future cooperation, the White House said no commitment has been made to share vaccines with Mexico as Biden's priority is vaccinating America first.
1614675105
Good morning and welcome to The Independent's US Politics liveblog, where we'll be bringing you the latest coverage from the White House and beyond.
1614676312
Biden calls Mexican president an 'equal' partner
Joe Biden and Mexican president Andrés Manuel López Obrador emerged from a video call with a joint statement pledging greater cooperation on a range os issues, including immigration, climate change and handling the Covid-19 crisis.
During the call, Biden referred to López Obrador as "an equal" and admitted that the United States and Mexico "haven't always been perfect neighbours with one another".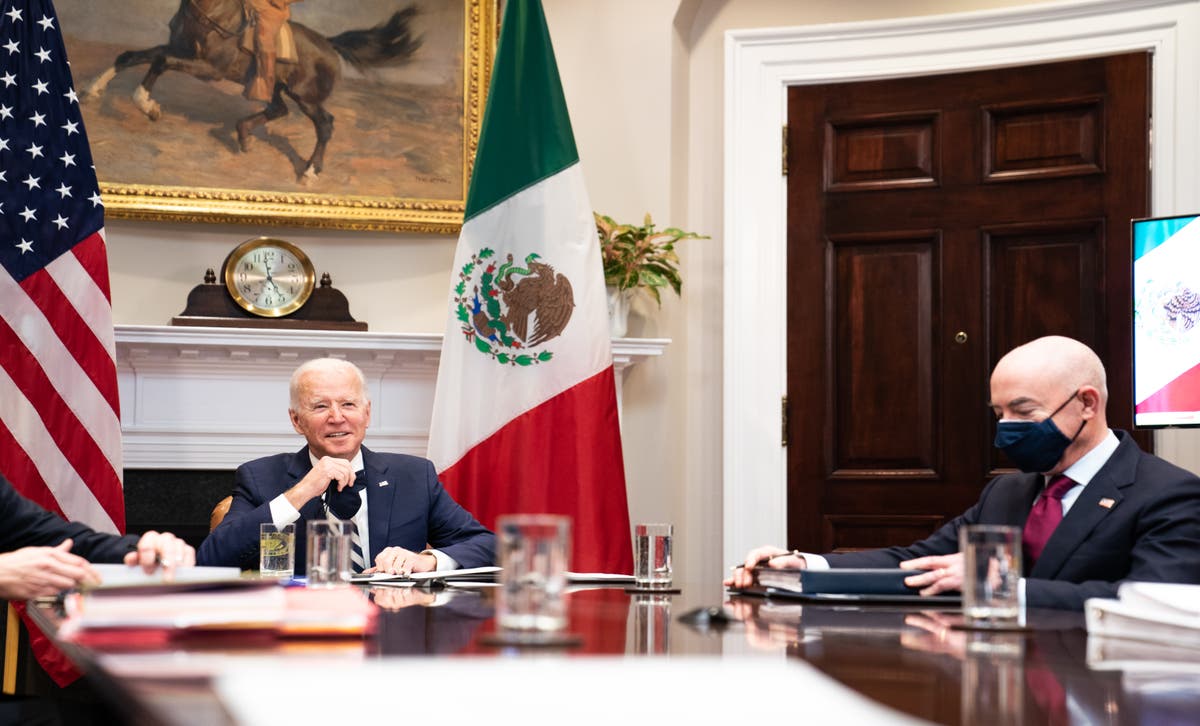 President's warm tone towards Mexico has translated to substantial policy changes
López Obrador said he was thankful Biden was "willing to maintain good relations for the good of our people in North America".
The Mexican government later added that the two sides had also agreed to crack down on migrant trafficking.
1614678454
Biden omits Dr Seuss from Read Across America announcement
President Biden made no mention of Dr Seuss in his Read Across America Day proclamation.
The event, founded in 1998 to promote reading in children, is held on 2nd March – Dr Seuss's birthday – every year.
Both Obama and Trump referenced the Green Eggs and Ham writer in their annual speeches.
Though the White House has not confirmed the reason for Biden's omission, Dr Seuss – real name Theodor Seuss Geisel – has come under increased scrutiny in recent years for racism and antisemitism in some of his works.
Loudon County, Virginia's largest public district, announced that it would no longer be connecting Read Across America Day exclusively to the children's writer because of "strong racial undertones" in some of his books and illustrations.
They stressed that his works have not been banned from their classrooms.
1614678886
Trump accused of 'hiding' Covid-19 vaccine he received in January
Trump has been accused of 'hiding' the fact that both he and Melania Trump received the Covid-19 vaccine in January, before they left the White House.
Democrat congressman Ted Lieu tweeted: "Why did the former President and the former First Lady hide the fact that they got a COVID vaccine?"
Others also questioned why Trump didn't receive the jab publicly in order to encourage his supporters to accept theirs.
Former Vice President Mike Pence, Senate Republican Leader Mitch McConnell and House Speaker Nancy Pelosi all received their first Covid-19 shots in front of cameras.
The New York Times first reported that Trump had received a shot in private. CNN reported in mid-December that Trump wouldn't be administered with a vaccine until it was recommended by a White House medical team.
1614679985
Mitt Romney 'doing better' after being knocked unconscious by fall
Utah senator and one-time presidential candidate Mitt Romney is "doing better" after a fall at the weekend that knocked him unconscious.
Romney told CNN that he needed "a lot of stitches" after he "took a fall" while visiting his grandchildren in Boston. He was spotted with a black eye.
A long-time critic of Trump, the Republican senator joked that he received the injury while visiting the Conservative Political Action Conference (CPAC) – although he did not actually attend.
1614681658
Rachel Maddow criticises Trump for keeping Covid vaccine 'secret'
MSNBC host Rachel Maddow criticised Trump for failing to disclose that he received a Covid-19 vaccination back in January, before he left the White House.
"Why did they keep this information secret from the American public?" the Rachel Maddow Show presenter said.
"I mean, sometimes that administration and that president did things that I thought were sort of crazy or wrong, but at least I could discern the self-interest.
"What was the self-interest here? To whom did the benefit accrue from keeping this secret from the American public?"
Trump has been criticised for "hiding" the fact that he and Melania privately received Covid shots since it was reported by The New York Times.
Other political figures, including Joe Biden and Kamala Harris, were vaccinated in front of cameras in order to help encourage others to accept the jab.
1614682636
Hydroxychloroquine is ineffective against Covid, WHO says
Hydroxychloroquine, the anti-malaria medicine Trump hailed as a "miracle drug", has been officially discounted by the World Health Organisation (WHO) as a possible means of protection against Covid-19.
The drug was found to have "no meaningful effect" on preventing the spread of coronavirus by the WHO's Guideline Development Group (GDG) in a trial of over 6,000 people.
Tablets former president once called 'tremendous' proven to be useless in fight against coronavirus
In May 2020, Trump revealed that he takes a hydroxychloroquine pill "every day" as a preventative measure against Covid-19. He praised the "tremendous" drug at successive White House press briefings.
But the medicine is no longer a "research priority" according to the WHO after the GDG found it to have no meaningful effect on preventing deaths or hospitalisations with a high degree of certainty.
1614684881
Will Smith will 'consider' running for office
Will Smith said he will "consider" running for office some day while discussing his political ambitions with the hosts of "Pod Save America".
"I think for now I'll let that office get cleaned up a little bit," the actor said, "and then I'll consider that at some point down the line".
The actor says he is waiting for the office to 'get cleaned up a little' first
Smith added that he will "certainly do my part, whether it remains artistic or, at some point, ventures into the politics arena" when discussing his experiences of racism with the podcast's hosts.
He is invested in "the process of education and understanding" to tackle racist ignorance, he said, which he believes is "fortunately more prevalent than blatant evil".
1614686574
Democrat congresswoman says Cuomo 'must resign' amid sexual harassment allegations
New York congresswoman Kathleen Rice has called on Andrew Cuomo to resign after a third sexual harassment allegation was made against the Democrat governor.
Rice shared a New York Times article containing the allegation that Cuomo placed his hands on a woman's bare lower back at a wedding reception in 2019, commenting "the Governor must resign".
Two other women have made sexual harassment allegations against the New York governor. Charlotte Bennett told the New York Times that Cuomo asked her questions about her sex life in his State Capitol office, which he denies.
Lindsey Boylan alleged in a Medium blog post that Cuomo invited her to play strip poker on his state jet. Last December, she also claimed that he kissed her on the lips in his New York office, which he denied at a press conference at the time.
The third allegation, made by Anna Ruch, came just hours after New York's attorney general Letitia James announced that Cuomo had authorised her to cary out an investigation into the two sexual harassment allegations made against him.
Several Democrats have called for Cuomo's resignation, including New York state assembly member Jessica González-Rojas and state senator Gustavo Rivera.