Watch live as Senate holds first hearing into Capitol insurrection
Senators questioned current and former security officials about the massive law enforcement failures on January 6, the day a violent mob overpowered police officers and laid siege to the US Capitol building.
Three of the four who testified before Senate committees resigned under intense pressure immediately after the deadly uprising, including the former head of the Capitol Police.
It comes as Donald Trump's former lawyer, Michael Cohen, said it was time for Mr Trump to "take responsibility for his own dirty deeds" after the Supreme Court ruled the ex-president has to hand over his tax returns to prosecutors in New York.
Meanwhile, President Joe Biden, held his first meeting with Canadian president Justin Trudeau and announced he will make his first major trip as president to Houston to visit the winter-devastated state of Texas.
As he used this week to observe the 500,000 deaths of Americans from Covid-19, his administration came under fire for re-opening the migrant camps on the US-Mexico border that he previously called "horrific", and Kamala Harris called "human rights abuses", when open under the Trump administration.
1614124225
'Cult members only come out for the cult leader': Lara said to be first Trump set for 2024 run – but can she win?
When Lara Yunaska walked down the aisle at Mar-a-Lago to marry Eric Trump, it was the wedding officiant who summed it up best when he said she wasn't just getting a family, she was getting six million Twitter followers, writes The Independent's Harriet Alexander.
"Fast forward seven years, and Ms Trump, now 38, is weighing up just what to do with her influential surname – and the power of that support. .. Despite having never running for office before, Dr Michael Bitzer, professor of political science at Catawba College in Salisbury, North Carolina, says she shouldn't be written off."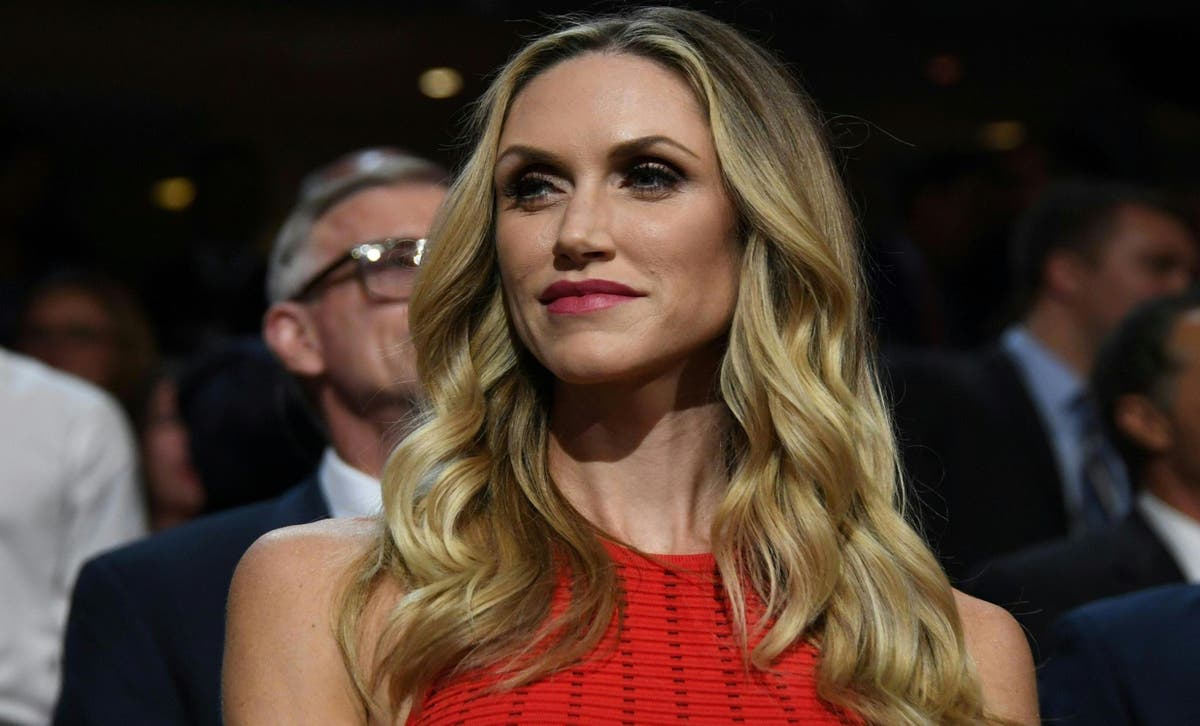 The idea of Lara Trump as the future of the Republican Party has left many "never Trumpers" aghast
1614123445
Biden's UN ambassador confirmed in Senate as White House firm on Neera Tanden
Following Donald Trump's diplomatic estrangement and isolationist agenda, Joe Biden's pick to serve as ambassador to the United Nations will enter the role facing twin crises – a growing climate crisis and a still-raging Covid-19 pandemic – following her confirmation in the Senate.
The Senate confirmed Linda Thomas-Greenfield as the nation's ambassador to the UN by a vote of 78-20 on Tuesday, days before she will assume the rotating leadership of the body's powerful Security Council in March.
A dozen cabinet-level appointments have not been confirmed, including Mr Biden's pick for attorney general Merrick Garland and budget office director Neera Tanden, who could face stiff opposition from Republicans and critical swing-vote Democrats in the Senate.
Alex Woodward has the latest from the Senate confirmation hearings.
Several cabinet-level officials in Biden administration await confirmation as GOP circles at least two nominees
1614121977
AOC breaks with Biden administration over reopening of Trump era migrant camps
Alexandria Ocasio-Cortez has lashed out at the Biden administration's reopening of migrant camps on the Mexico border, which Jen Psaki insisted earlier today were "not kids in cages".
On Twitter today, she said it is "not okay, never has been okay, never will be okay – no matter the administration or party".
AOC is infamous for travelling to the border, where she was pictured weeping outside the car park of the migrant facility.
The immigration facility with the so-called "cages" were built during the Obama-Biden administration, but became heavily utilized during the Trump administration's "zero tolerance" policy that forced the separation of children from their parents.
The White House press secretary was pressed how the reopening of the facility now was any different than when it opened under Trump, when the president called it "horrific" and Kamala Harris called it "human rights abuses".
In response, Psaki said it was a temporary reopening due to Covid-19 and social distancing requirements.
"This is not kids being kept in cages, this is a facility that was opened that's going to follow the same standards as other HHS facilities, it is not a replication, certainly not, that was never our intention of replicating the immigration policies of the past administration," she says.
1614121525
Trump has asked Facebook to let him back on in new appeal to Oversight Board
Donald Trump has appealed directly to Facebook's Oversight Board to allow him to rejoin the platform, according to a report by Channel 4 News.
The board, a group of 20 experts from around the world, is reviewing the company's decision to permanently suspend the former US president's account.
Helle Thorning-Schmidt, former prime minister of Denmark, and now co-chair of the content review group on the board, told presenter Jon Snow that they would be reviewing the appeal.
"It's a very high profile case," she said, "but that is exactly why the Oversight Board was created in the first place."
Oliver O'Connell reports.
1614121093
Trump to meet RNC chair tonight, reports
This missive via Washington Post reporter Josh Dawsey, who says Donald Trump and Ronna McDaniel will have dinner at Mar-a-Lago tonight.
1614120325
Twitter erupts over Hawley appearance at Capitol probe
Missouri Republican Senator Josh Hawley suffered fresh backlash online as he appeared at a hearing concerning the Capitol riot, which he is considered by some to have helped incite.
Mr Hawley took part in a joint hearing between the Senate Homeland Security and Governmental Affairs Committee and the Senate Rules Committee where Senators interrogated former Capitol police chief Steven Sund, former Senate Sergeant-at-Arms Michael Stenger, former House Sergeant-at-Arms Paul Irving and the acting chief of police for the Metropolitan Police Department Robert Contee.
Referring to Mr Hawley, one Twitter user wrote that it was "hard to watch a traitorous insurrectionist attempt to question witnesses about his acts of sedition".
One account holder called for Mr Hawley to be 'charged with sedition and locked up'
1614118825
Massive 'intelligence issues' and slow-moving Pentagon left police on an island amid Capitol riot, security officials testify
The law enforcement leaders responsible for protecting the US Capitol when a pro-Trump mob stormed past security on 6 January have pointed their fingers at shortcomings by federal officials and agencies in failing to stop the deadly breach.
At a hearing before a joint Senate panel on Tuesday, Metropolitan Police Acting Chief Robert Contee, former House Sergeant at Arms Paul Irving, former Senate Sergeant at Arms Michael Stenger, and former US Capitol Police Chief Steven Sund offered conflicting accounts and characterisations of the actions they took leading up to the riot and as it was unfolding.
The Independent's Griffin Connolly wraps up the day's hearing on the Hill.
DC police chief 'literally stunned' by nonchalant response of Army to plea for National Guard reinforcements amid riot
1614117325
Get well soon': Donald Trump leads well-wishers following Tiger Woods car crash
Donald Trump has released a statement wishing Tiger Woods well following the professional golfer's car crash that left him hospitalised with "moderate to severe" injuries.
"Get well soon, Tiger. You are a true champion," Mr Trump said in a statement, which was shared by one of his campaign advisers on Twitter.
The former president was known for his passion for golf, so it comes as no surprise he would want to offer a statement following the news of the crash.
'Get well soon, Tiger. You are a true champion,' Mr Trump says in a statement
1614116163
BREAKING: Top Texas power officials to quit after millions endure freezing temperatures when grid failed
Top power officials in Texas are said to be quitting - a week after millions endured freezing temperatures when the energy grid failed.
Andrew Buncombe is following the story.
1614115825
'MyPillow Guy' complains loyalty to Trump is costing him millions while facing $1.3 billion lawsuit
Mike Lindell, a loyal ally to former President Donald Trump who has continued to promote flagrantly false and debunked claims of rampant voter fraud, lamented over his financial predicament in a new interview after he was sued on Monday for $1.3 billion by Dominion Voting Systems.
"I lost 20 retailers, and it's cost me $65 million this year that I won't get back, OK?" Mr Lindell told Insider after it was reported the voting technology company sued him for repeatedly making false claims about its work in the 2020 US elections. "There's your story. Print it right. Don't try and twist this."
The Independent's Chris Riotta reports.
'I lost 20 retailers, and it's cost me $65 million this year that I won't get back, OK?'