Democratic presidential nominee Joe Biden in Wisconsin on Monday
In Wisconsin on Monday, Biden denounced the president's coronavirus response, saying the US president was more worried about stock markets than the pandemic and that the current health crisis "was too big for him".
Please allow a moment for our liveblog to load
1600818924
We're closing today's live coverage of the Biden campaign.
Stay tuned with The Independent.
1600815964
Cindy McCain to endorse Joe Biden, candidate announces
Joe Biden has announced that Cindy McCain, the wife of late Republican senator John McCain, will give him her endorsement.
The Democratic vice president announced at a virtual fundraising event that she gave her endorsement "because of what [Donald Trump] talks about with my son and John, who are heroes, who served their country."
The candidate was referencing remarks that the president reportedly made about military service members, as first reported in The Atlantic and corroborated by several news outlets
The president also has called Senator McCain, a Navy veteran and 2008 GOP presidential candidate, a "loser".
"I never got along with John McCain," the president said this month. "I wasn't a fan. I disagreed with many of his views."
She appeared in a DNC video but did not offer her explicit endorsement at the time.
1600815320
Report: Pete Buttigieg is Mike Pence in mock debates to prepare Kamala Harris
Vice presidential candidate Kamala Harris is preparing for a debate with Mike Pence by tapping former candidate Pete Buttigieg to play the VP in mock debates, Bloomberg reports.
The former district attorney and sitting senator, no stranger to arguments, delivered some knockout blows during Democratic debates, but her campaign team is reportedly working to manage expectations and ease her away from the kinds of blows that made her a debate highlight.
The candidates are set to debate on 7 October at the University of Utah in Salt Lake City. USA Today's Washington bureau chief Susan Page will moderate.
1600814008
Trump to announce SCOTUS pick on Saturday
Donald Trump will announce his pick for Supreme Court justice – what will be his third appointment to the lifetime seat within his first term in office – at 5pm on Saturday, he announced.
The president's pick will follow a week of memorials and other services for Justice Ruth Bader Ginsburg, who died on 18 September.
1600812157
Nobody has seen vaccine data, not even Trump, Fauci says
Donald Trump has not seen any coronavirus vaccine data, despite his claims that it could be prepared for millions of Americans "very soon" as he campaigns for re-election.
Dr Anthony Fauci told The Daily Beast that the closely-held results of blind, placebo-controlled vaccine trials are available to "one unblinded statistician" – and that's it.
The nation's leading infectious disease expert said the efficacy of a likely vaccine would be announced within coming months, but not its manufacturing and distribution, despite the president's insistence.
1600809643
It's not just Roe v Wade. Trump's Supreme Court pick could challenge Brown v Board of Education
Andrew Feinberg writes that legal experts and Washington veterans fear that discussions about abortion could be obscuring Trump nominees' hostility to another landmark civil rights case – Brown v. Board of Education of Topeka, which declared that "in the field of public education, the doctrine of 'separate but equal' has no place."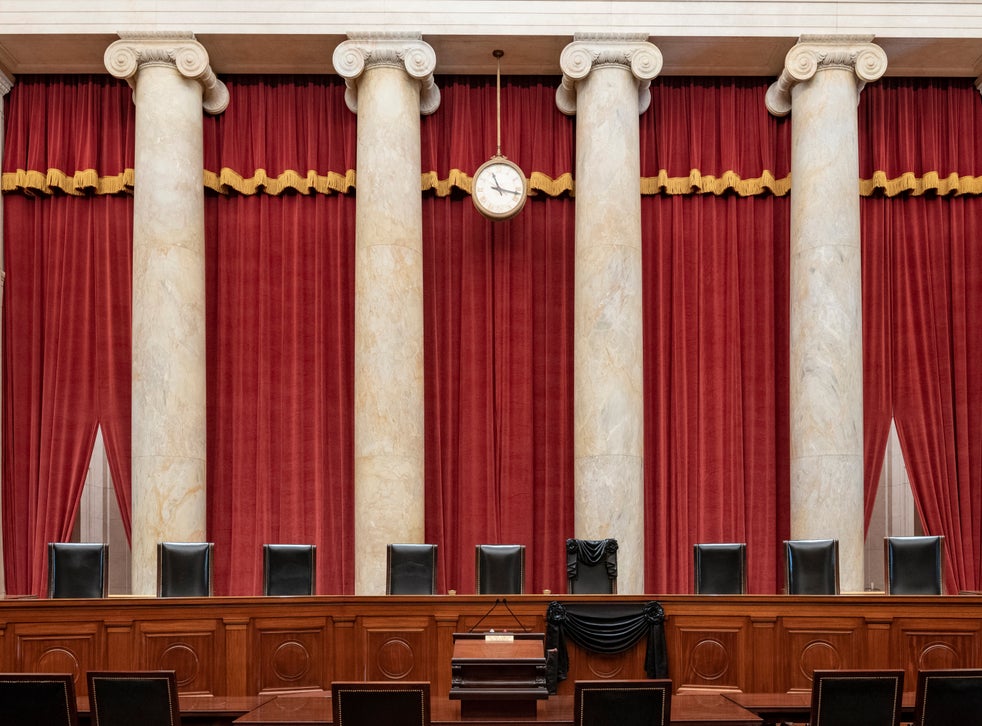 Nearly 30 Trump nominees have refused to say the ruling in the landmark case — which overturned segregaton in schools — was the correct one
1600808443
Court packing: What it is, how it affects the Supreme Court, and whether Joe Biden wants to do it
Throughout the Democratic primary process, former vice president Joe Biden resisted the idea of adding more Supreme Court seats to block a conservative judicial majority if Democrats wrestle back control of the White House and both chambers of Congress.
It would just become a vicious cycle, Mr Biden has said, with each party swelling the ranks of the court to suit its partisan interests each time it takes power in Washington.
"We add three justices — next time around, we lose control, they add three justices," he said at a debate last year when asked about his views on "court-packing," the colloquial term for diluting the ideological makeup of the Supreme Court by expanding the bench.
But with Donald Trump and the Senate Republican majority poised to seat a third justice in less than four years after the death last week of Justice Ruth Bader Ginsburg, several Democrats have issued calls for Mr Biden to reconsider the manoeuvre.
Washington correspondent Griffin Connolly has the nuts-and-bolts history on the makeup of the Supreme Court and why it has been such a hot topic this election cycle.
A nuts-and-bolts history on the makeup of the Supreme Court and why it has been such a hot topic this election cycle
1600807181
Kamala Harris holding 'shop talk' with black leaders in Detroit
Vice presidential candidate Kamala Harris is campaigning in Detroit, Michigan and holding a community meeting to discuss racial justice, jobs and building wealth.
1600805222
CIA found Russia president Vladimir Putin 'probably directing' campaign against Biden, claims report
Justin Vallejo writes: Russian president Vladimir Putin is believed by America's intelligence agencies to be personally pulling the strings behind a disinformation campaign to denigrate Joe Biden and influence the US election, according to reports.
A top-secret Central Intelligence Agency assessment, reported in the opinion section of The Washington Post, claims Mr Putin is likely directing Ukrainian lawmaker Andriy Derkach in disseminating disparaging information about Mr Biden through lobbyists, Congress, the media and contacts close to Donald Trump.
"We assess that President Vladimir Putin and the senior-most Russian officials are aware of and probably directing Russia's influence operations aimed at denigrating the former US vice president, supporting the US president and fueling public discord ahead of the U.S. election in November," the document says, according to two sources with knowledge of the report quoted by the Post's global opinions section columnist Josh Rogin.
Mr Derkach was sanctioned by the Treasury Department on 10 September for allegedly being an "active Russian agent for over a decade", with Treasury Secretary Steven Mnuchin saying in a statement that he was attempting to influence US elections, including through the release of leaked audiotapes to media.
It comes after Donald Trump criticised the director of the FBI for not including in testimony to Congress Chinese and Iranian attempts to influence the election against the president
1600802455
The stark graphics that reveal how US passed 200,000 Covid-19 deaths
Anthony Cuthbertson writes: The US coronavirus death toll has passed 200,000, as the number of new daily cases once again begins to increase.
The milestone was passed on Tuesday, according to data from Johns Hopkins University, just over six months after the first death was recorded in the country.
Total confirmed cases of Covid-19 in the US are set to pass 7 million in the coming days, with global cases now exceeding 30 million.
Over the last week, the average number of new daily cases in the US has risen from 34,000 to over 43,000.
The number of new daily deaths, by contrast, has slowed in recent days - reflecting a trend from a few weeks ago when the number of new daily cases saw a brief drop.
More than 2% of population now confirmed with virus, though figure likely much higher
More about