Related video: Biden orders 200m extra Covid vaccine doses in bid to vaccinate 300m Americans by end of summer
The US has issued a domestic terrorism bulletin over a "heightened threat environment" following the inauguration of Joe Biden.
It comes as Donald Trump begins to emerge from his post-White House isolation with plans to meet with Republican House minority leader Kevin McCarthy in Florida. While Trump faces a second impeachment, it has been called "dead on arrival" after most GOP Senators voted to declare it unconstitutional.
Trump remains popular within the party, with a new Morning Consult poll showing 81 per cent Republicans have a positive opinion of the former president and half believing he should play a significant role in the GOP's future.
Biden, meanwhile, signed three executive actions to tackle climate change, including the pause of new oil and gas leases being granted on federal lands. Another directs the government to acquire electric vehicles and a third formally establishing an office of domestic climate policy under John Kerry and Gina McCarthy.
1611737165
Good morning and welcome to The Independent's rolling coverage of the Joe Biden administration.
1611737721
Biden confronts Putin over Navalny
Joe Biden has held his first call with Russian counterpart Vladimir Putin, pressing his fellow president on the poisoning and arrest of opposition leader Alexei Navalny, the Kremlin's apparent involvement in a cyberattack last year that compromised the files of multiple US federal agencies and the Russian military's alleged bounty scheme against US troops in Afghanistan.
The new US president is eager to set a new tone in relations with Russia, its Cold War adversary throughout the second half of the 20th century, after his predecessor, Donald Trump, routinely gave Mr Putin the benefit of the doubt.
Griffin Connolly has this report.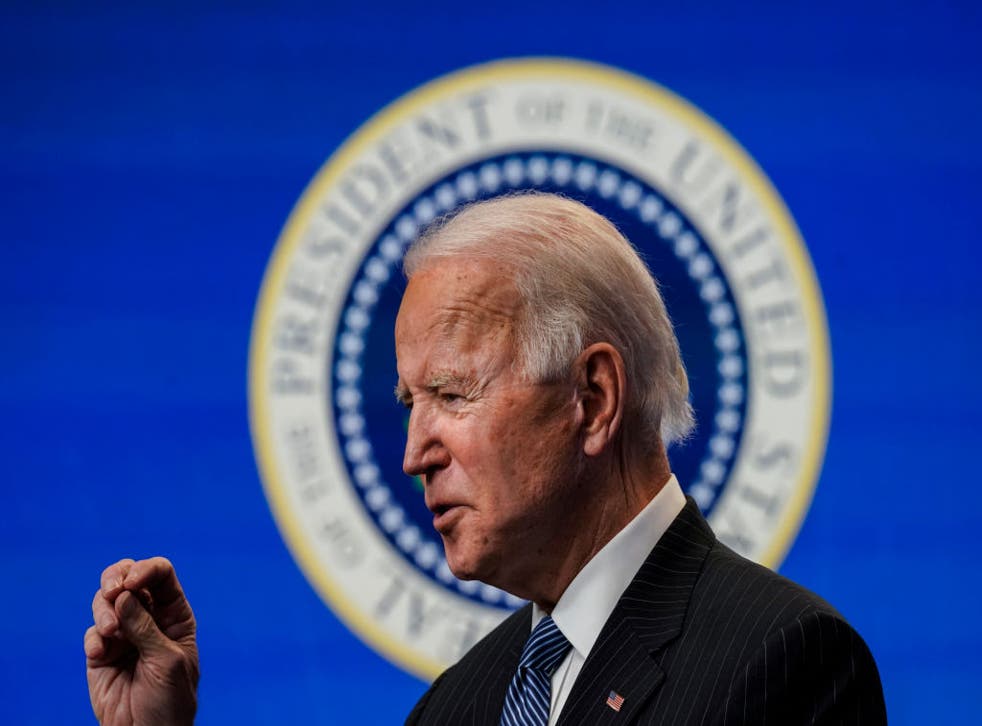 Kremlin describes conversation as 'businesslike' and 'frank' in nature
1611738921
Republicans lose vote to stop Trump impeachment
Republican senators lost a vote in the upper chamber on Tuesday seeking to block Mr Trump's upcoming impeachment trial as "unconstitutional", given that he is no longer in office, but the ballot appeared to confirm Rand Paul's contention that the matter is "dead on arrival", with insufficient GOP support to convict the 45th president for inciting insurrection at the US Capitol earlier this month.
The vote to table the measure passed by 55-45, with just five Republican senators - Mitt Romney, Ben Sasse, Susan Collins, Lisa Murkowski and Pat Toomey - among those breaking GOP ranks.
The bickering is unlikely to stop there.
Alex Woodward has this one.
Only five Senate Republicans join Democrats to reject effort to declare trial is unconstitutional
1611740121
Veteran Democrat due to preside over Senate trial hospitalised
There was drama after yesterday's vote as Democratic senator Patrick Leahy, the US Senate's senior-most member and president pro tempore, was taken to a hospital "out of an abundance of caution" after he began feeling ill.
The 80-year-old, set to preside over the second impeachment trial of Donald Trump, was "not feeling well" at his office at the US Capitol on Tuesday, according to a statement.
"Out of an abundance of caution, the Attending Physician recommended that he be taken to a local hospital for observation, where is now, and where he is being evaluated," it read.
He has since returned home.
The senator is third in the presidential line of succession behind vice president Kamala Harris and House speaker Nancy Pelosi.
Alex Woodward has this report.
Senior-most US senator sent to hospital 'out of an abundance of caution' hours after swearing in senators to begin trial
1611741321
Biden orders 200m extra Covid vaccine doses
The Biden administration has purchased an additional 200m coronavirus vaccine doses from Moderna and Pfizer in an effort to vaccinate 300m Americans by the end of summer.
"This is enough vaccine to fully vaccinate 300m Americans by the end of the summer, beginning of the fall," President Biden said on Tuesday when making the announcement.
The federal government has already received a commitment of 400m doses between Pfizer and Moderna. The additional purchase from the two companies, which the country will receive by the summer, would bring the federal government's total stockpile to 600m doses. Since each vaccine requires two doses, that means 300m Americans could potentially access the jab in the summer months.
"The end goal is to beat Covid-19, and the way we do that is to get more people vaccinated," Biden said. "Which means we have to be ready after we hit the goal of 100m shots in 100 days."
"By the end of the summer, I hope that you have too much vaccine left over, that you have too much equipment left over… I hope that becomes the problem," he added.
Danielle Zoellner has more.
Mr Biden says the federal government will increase its vaccine doses sent to states by at least 15 per cent next week
1611742521
Anthony Blinken confirmed as secretary of state as Janet Yellen sworn in
Biden's nominee for US secretary of state, Antony Blinken, has been confirmed by the Senate, after a bipartisan confirmation vote with a final tally of 78-22.
Lawmakers, including some Republicans, have said that they want Biden's national security team in place as soon as possible.
Avril Haines and Lloyd Austin have already been confirmed as director of national intelligence and secretary of defence respectively.
The Senate Foreign Relations Committee moved the nomination forward to the Senate floor after Blinken received strong bipartisan support, with the committee voting 15-3 to proceed with his confirmation.
Meanwhile, new treasury secretary Janet Yellen took her oath of office on Tuesday, sworn in by vice president Kamala Harris, as the Biden cabinet continues to take shape.
Senate confirms Blinken after bipartisan vote with final tally of 78 to 22
1611743721
Kamala Harris receives second dose of Covid vaccine
The veep and second gentleman Doug Emhoff each received a second dose of Moderna's coronavirus vaccine on Tuesday.
Harris sat for her shot at the National Institutes of Health in Bethesda, Maryland, and urged "everyone to take the vaccine when it is your turn."
"It is really pretty painless, and it will save your life," she said.
Moments after receiving the jab, she reflected on her "full circle" moment: returning to the same facility where her mother, a breast cancer researcher, had worked.
Joe Biden has sought to increase nation's stockpile to 600 million doses by 'end of summer'
1611744921
Biden cites George Floyd murder as 'turning point' for country
The president cited George Floyd's murder by a policeman in Minneapolis last May as a "turning point" for the country as he signed a string of executive orders to tackle racial equity on Tuesday.
Biden said he was acting on racial injustice and discrimination because "not only it is the right thing to do but we will all be better off for it".
He signed executive orders stopping the Department of Justice from renewing contracts with private prisons and others aimed at ending discriminatory housing practices, respecting sovereignty of tribal governments, and fighting xenophobia against Asian Americans and Pacific Islanders in the wake of Covid-19.
"In my campaign for president I made it very clear that the moment had arrived as a nation where we faced deep inequity in the American system that has plagued our nation for far too long," Biden said.
"Those 8mins 46 secs that took George Floyd's life opened the eyes of millions of Americans and millions of people all around the world.
"It was the knee on the neck of justice and it stirred the consciousness of tens of millions of Americans and it would not be forgotten. In my view it marked a turning point in this country's attitude towards racial justice."
Graeme Massie has this report.
President says it is 'time to act' on systemic racism in US
1611746121
Biden's inauguration was third most-viewed in TV history
Only Ronald Reagan and Barack Obama's swearing-in ceremonies attracted wider audiences, according to Nielsen data.
For a man who makes value judgements based solely on potential TV ratings, Donald Trump will be white with rage when he hears this news at Mar-a-Lago.
Shweta Sharma has the full story.
Joe Biden's inaugural ceremony viewership surpassed Donald Trump's
1611747321
'The Capitol invasion could have greater political importance than 9/11'
The House Appropriations Committee yesterday held a briefing from law enforcement officers on the failure to prevent the US Capitol riot on 6 January that left its members "stunned" by what they heard, according to CNN.
The panel's chair, Rosa DeLauro, a Connecticut Democrat, told the network that members were "shaking their heads in disbelief" at the details of the security breakdown that led Trump supporters to storm the building, breaching its defences for the first time since 1814.
Acting US Capitol police chief Yogananda Pittman admitted during the session that her department knew there was a "strong potential for violence" targeting Congress but did not take appropriate steps to prevent it.
"They had the information. They did not act on it. And a question that I have, and one that I think we need to get to the bottom of, is who made the decision not to act?" DeLauro told CNN.
"People said today that there was ample evidence, that the intelligence agencies had ample evidence, that an angry mob was going to descend on Washington with Congress' meeting to certify the election as the intended target."
Matt Cartwright, a Pennsylvania Democrat who also participated in the hearing, told the same network, "It was only by pure dumb luck that elected officials, staffers and more Capitol policemen were not killed."
For Indy Voices, here's Patrick Cockburn on the broader significance of the assault against democracy for which the 45th president is answerable.
For all the talk of unity at the inauguration, America is too divided racially and socially to come together
More about
Subscribe to Independent Premium to bookmark this article
Want to bookmark your favourite articles and stories to read or reference later? Start your Independent Premium subscription today.