Another dispatch from Royce Kurmelovs in Adelaide:
Denis Noble, 76, spent yesterday fighting bushfires near his home in Charleston in the Adelaide Hills. Denis and his wife had only moved into the property a week ago when they watched the blaze come over the hill in the morning and slowly engulf the paddock across the road from his house.
Their neighbours, who are in their 30s and 40s, helped fight the blaze.
"It came slowly, inexorably towards us," Denis said. "We're oldies. They're full of energy and tearing around with buckets. Everybody pitched in to stop the fire and it stopped at the roadway. It was a good way to get to know the new neighbours."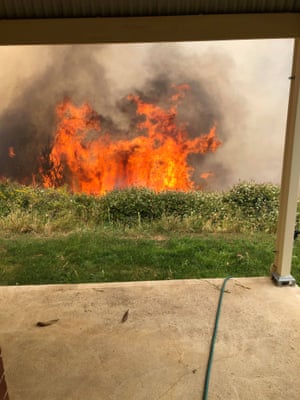 The bushfires seen from Basket Range CFS. Photograph: Andrew Noble
Denis's son, Andrew, who also works as a paramedic, has been fighting the Cudlee Creek fires with the CFS as part of the Basket Range CFS brigade, which are currently deployed around Birdwood.
This morning Denis and his wife drove into Stirling as the power to their property had been cut and there was no mobile service. On the way they drove past two properties that had been destroyed.
"It was devastating to see," Denis said. "We saw at least two houses that were just a pile of wreckage. It breaks your heart to see that, because you know it's been someone's residence for quite some time and you don't like to think of what they lost."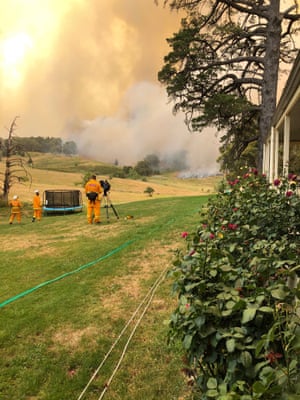 The fires seen from Basket Range CFS. Photograph: Andrew Noble